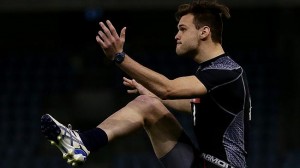 Richmond wanted Ben Lennon, and Ben Lennon wanted Richmond.
So, when the Tigers' Recruiting Manager Francis Jackson called Lennon's I.D. number and name out at pick 12 in the 2013 AFL National Draft, held last night (November 21) at the Gold Coast Convention Centre, there was plenty of excitement in the room.
"There were some very nervous moments before our first pick, because we weren't sure if West Coast were going to pick Ben (at pick 11), so I was sweating on the number that they actually read out before Ben. It's very exciting," Jackson said.
"Ben spent his AIS week with us early in the year, and that gave us just a little bit more information about him. We saw how he reacted in a few situations.
"A number of (Richmond) players rated him highly. They were texting me to make sure we got Ben, so that was very interesting . . .
"Ben provides a lot of class. He's a very smart player, he sees the footy really well, is strong overhead, and a terrific kick.
"He played a little bit more of a midfield role towards the back end of the year, so we think he has a lot of versatility. His footy 'smarts' are excellent . . ."
For Lennon, being selected by Richmond was a dream come true.
"I'm absolutely thrilled," he told 'Roar Vision' in an exclusive post-draft interview.
"Coming into the Draft, I wanted to become a Tiger and, luckily enough, I did."
The talented 18-year-old admitted to a nervous wait in the lead-up to Draft night.
"It's that not knowing where you're going," he said.
"Finally finding out what you're going to be doing next year is a great thrill, and the family's very happy as well."
Lennon, who has played predominantly forward (and had a major impact) during his junior playing days at suburban club Macleod and for TAC Cup team the Northern Knights, has set his sights on eventually moving into the midfield at AFL level.
"I've got to work on my endurance, but I'm pretty sure I can, with the hard work, become a midfielder," he said.
"I'm just super-excited to get stuck in with the pre-season, work hard and, hopefully, earn the boys' respect ASAP.