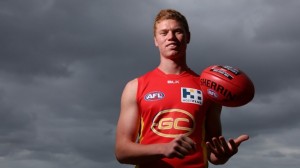 Given the fanfare around 2014 draft class members Touk Miller and Adam Saad, it's easy to forget their fellow Calder Cannons product Peter Wright was the SUNS' first selection in the national draft at No. 8.
Miller (22 games) and Saad (16 games) lit up the field in 2015, both finishing in the top eight in the SUNS Club Champion award and NAB AFL Rising Star voting, while Wright managed just three senior games in his maiden campaign and spent most of his time in the NEAFL.
But it's a well-known fact key position players take much longer to develop than their smaller counterparts and in time, Wright has the potential to eclipse them in terms of on-field achievements.
At the time of the 2014 draft, list manager Scott Clayton described Wright as a "once in an eight to 10-year player" destined to have a great AFL career.
With that in mind, the 203cm forward is determined for another strong year of progress in 2016 but still want to play as much senior football as possible.
"Just another big development focus (in 2016)," Wright told SUNS TV.
"No cap on games, I haven't really set sights on that yet.
"Ideally I'll be playing round one but we'll cross that bridge when we get to it so this year's probably just developing the game like I did last year, whether it be in the ones or twos."
Under the instruction of new Elite Performance Director Justin Cordy, Wright revealed he's been enjoying the 2016 pre-season campaign thus far and has seen noticeable gains on the track.
"Yeah it's good. Really enjoyed it actually, it's been really solid," he said.
"Pre-Christmas was a massive focus on just physical attributes; the fitness, the speed side of it.
"It's been really solid but loving the individual side of the program this year, it's definitely well improved and looking forward to the next six weeks before NAB Cup."
The individualised programs introduced by Cordy have been highly praised by the entire playing group and the 19-year-old has been given the task of improving both his repeat efforts and strength in the gym.
"At the moment it's massively just on my ability to repeat effort," Wright said.
"So the endurance base is there but looking for the first step quickness and then being able to repeat that, repeat leads, sort of stuff like that.
"It's probably a big one as well is in the gym just getting stronger and growing into the body a little bit."
As for life on the Gold Coast, things couldn't be much better for the Moonee Valley junior.
After commencing his time on the Coast with host parents Mark and Maryanne Cherry, Wright moved out with best mate Miller mid-way through 2015 and has been loving the newfound independence.
"Been living together, me, Touk and another boy for six months now," he said.
"Really loving it up here now. Living alone, the independence side of it, we've been able to cook for ourselves, clean for ourselves.
"Just do everything and be really independent up here and enjoy it."