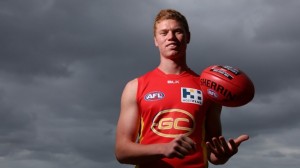 PETER Wright is ready to be thrown into the deep end.
Charlie Dixon's departure for Port Adelaide has left a vacancy at the Suns for a deep forward who can serve as a back-up ruckman and the 19-year-old "Two metre Peter" is up for the contest.
The Suns have often played three talls, Dixon, Sam Day and Tom Lynch when all have been fit but, with the reduction of interchanges this year, coach Rodney Eade is likely to go with only two and a couple of mid-sized runners.
Day is an established member of the side and would have his nose in front, but Wright's size – he is 203cm to Day's 197cm – and superior running power presents a compelling argument.
He booted two goals in an intra-club match against Day's three and Eade said he is breathing down the more senior players' necks.
"I thought he (Day) showed some signs, he kicked a few which was pleasing,'' he said.
"But I thought Peter showed a little bit too.
"He got his hands to a few, he didn't mark them and he has to improve on that but his height is an advantage.
"I think there is a bit of competition for that spot.''
Wright arrived last season as the club's top pick, No.8, in the 2014 draft but knew he would have to serve his time behind Dixon and Day.
Now he sees an opening and is prepared to fight for it.
"For sure, there is an opportunity there now,'' he said. "Obviously Tommy (Lynch) will be starting but there could be a bit of a competition on, I think.''
Wright played the majority of his junior football as a forward but realises improving his ability to ruck is the way to a permanent game.
"The new rules will put more strain on the rest of the team so obviously the bigger boys are going to have to spend more time on the ground,'' he said.
"I think that might help my case a little bit, but I have to get my tank up to the stage where I can stay on the field for a longer period of time.
"Just being able to add both strings to my bow is important, so I'm working hard on the ruck side of my game.
"This pre-season has been massive.''
Although he relished the three senior games he played last year, it was the development of his ruckwork under former NEAFL coach Josh Fraser that was the most beneficial.
"It was awesome getting the opportunity last year, but most of my development came through the NEAFL,'' he said. "I had some great opportunities down there both up forward and in the ruck.
''I really enjoyed working with Josh Fraser, I feel like I made some great gains in my game, all aspects, the fitness side of it and game knowledge.''