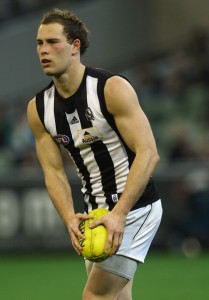 One of the success stories of the 2010 premiership team, Macaffer reestablished himself as a senior player three years later when he reinvented himself as a tagger in the midfield.
Such was Macaffer's consistency in 2013 that he ran sixth in the Copeland Trophy after stopping the likes of Nick Dal Santo, Josh Kennedy and Joel Selwood in their tracks. In the twelve months that followed, he established himself as one of the finest taggers in the competition and, importantly, became an underrated leader in Nathan Buckley's young Collingwood outfit.
He still has the ability to play in a variety of roles at half forward and at half back, marks extremely well overhead and is difficult to beat one-on-one. Macaffer has a tendency to break tackles but make his own stick, and when in form is a reliable shot for goal. A knee injury in the penultimate round of 2014 restricted him in 2015, but he will be back fit and ready this season.