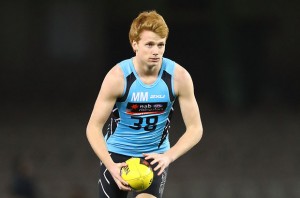 PORT Adelaide draftee Willem Drew's first pre-season as an AFL player is going just as his cousin, Essendon defender Marty Gleeson, predicted.
"He said, 'You're going to be knackered most of the time – all you do is train, eat and sleep'," Drew told AFL.com.au.
"I was always asking (Gleeson) questions when he was back home at Koroit.
"He helped me a fair bit going into my draft year to make sure I was prepared."
Gleeson knows what it takes to make the step up.
The 22-year-old has played 51 games for the Bombers and became an essential part of the side last year, averaging 17.6 possessions off half-back.
Drew has made quite the impression at Alberton after being taken with the 33rd pick overall at the 2016 NAB AFL Draft.
The 18-year-old midfielder, who hails from Warrnambool, turned in strong performances for Victory Country at last year's under-18 national championships and with North Ballarat in the TAC Cup.
He was also something of a good luck charm for the Koroit Saints in the Hampden League, playing in three senior premiership sides in as many years, including being named best on ground in the 2016 grand final.
Koroit came from six goals down on that occasion to clinch the trifecta.
Drew was thrown into the fire when he was just 15 years old, repaying the club's faith to become one of their most valuable contributors.
"I had a great coach who trusted me at an early age," Drew said.
"(Winning three premierships) will be with me for the rest of my life. The whole town gets around you and they've got a really good supporter base."
Koroit Saints secretary Steve Hoy said Drew showed plenty of talent from a young age.
"He was such a standout in the juniors and seemed to have plenty of time because he reads the play so well," Hoy said.
"When he got into the senior side, it's that ability to read the play and that vision and he always seemed to have time and space.
"He reminded a lot of people at the club of Marty Gleeson, they were a similar build at that stage."
With his lightly-built frame, Drew will start as an outside midfielder at the AFL level before becoming an in and under player.
"At training, he's been playing a little bit more outside, but I would have thought eventually he will spend some time inside because he's got some genuine orientation in congestion," Power midfield manager Michael Voss said.
"He knows how to work his way with composure in tight situations.
"As his body develops and gets bigger and handles all the bigger bodies, that will be a pretty big skill-set that he's got."