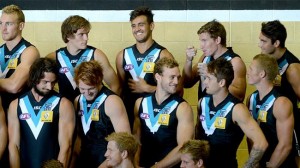 At first glance, Matt White appeared to be in a pretty good position at Richmond at the end of last season.
He'd already played 100 games for the club, was a regular member of the 22 last season and despite missing the Tigers' finals defeat against Carlton through injury had seen his club make the first of what's expected to be a string of postseason appearances.
But dig a little deeper and you'll discover why the free agent decided to make the move to Port Adelaide when Ken Hinkley came calling.
It was probably in the 2012 season when White's lack of opportunity under Damien Hardwick started to really frustrate him.
He was dominating in the VFL with Coburg – averaging 25 disposals a game – but was only called up to the league side seven times, including three as starting sub.
It continued last year.
After forcing his way into the line-up in round five White wore the green vest in seven of his 16 appearances – one of the highest tallies in the AFL.
So when Hinkley called after the Tigers' finals exit and told the 26 year old he saw him as more than an impact player, White was listening.
"For Kenny to say we see you in our 22 – as long as my form is good and I'm fit – that was the main thing," White said.
"I've played 105 games now and I'd like to play 100 more. Kenny offered me the opportunity to do that."
There's only three current AFL players who have played more games than White without tasting finals action – his former Richmond teammate Nathan Foley (136 games) and Melbourne duo James Frawley (118) and Lynden Dunn (117).
It burns White, who was ruled out of the Tigers' elimination final with a hamstring injury.
"Unfortunately I had the hamstring issue which we had a few little tussles with the fitness staff about going into that final," White said.
"To miss out was gut-wrenching. I don't know if I could have done anything to sway the game but sitting in the stands being helpless was killing me.
"It's a big one for me now."
Hinkley recruited White to add outside speed to his midfield.
In his limited game time with the Tigers last year he had the highest average at the club for inside 50s (4.1) and metres gained per disposal (23.8).
PORT Adelaide fans will get their first look at recruits Matt White and Jared Polec and top draft pick Jarman Impey in Saturday's internal trial at Alberton.
Power football manager Peter Rohde said two "reasonably balanced" sides had been selected for the 4 x 20-minute quarter game which will start around 5pm.
Jarrad Redden – who was placed on the long-term injury list on Friday – and Jackson Trengove are the notable absences from the teamsheet, as well as Hamish Hartlett (shoulder) and Kane Mitchell (tight quad).
"We've got 35 of our AFL-listed players playing and about 13 top up players from the Magpies," Rohde said.
"We've done plenty of match practice already but this is another step up in our conditioning."
Temperatures are expected to climb above the 40C mark on Saturday but with no restrictions on interchanges or the number of trainers it can have on the ground, Port isn't worried.
"We like the heat," Rohde said.
"Burgo (fitness coach Darren Burgess) would say it's perfect."
White said he was looking forward to the hit-out and wasn't concerned with the weather.
"It's starting to get normal for me now," White said.
"It was 30C yesterday and I don't think I had the airconditioner on once.
"The heat is not going to be a massive factor for us … we're not taking a backwards step."
SOURCE: http://www.heraldsun.com.au/sport/afl/power-coach-ken-hinkleys-promise-of-more-game-time-lured-matt-white-to-alberton/story-fni5f9de-1226821072309