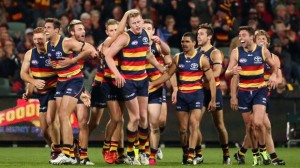 ADELAIDE back-up ruckman Reilly O'Brien says West Lakes is the ideal place for him to learn under Sam Jacobs after penning another deal.
O'Brien, a Victorian, said he could not be happier to be staying with the Crows and was confident the competition between him and the No. 1 ruckman would benefit them both.
"I think he (Jacobs) has really enjoyed a bit of pressure from behind," O'Brien said.
"He hasn't had that for a few years.
"I'm trying to push him to get better and ultimately make the team better and I learn a lot from him, being one of the best ruckmen in the league.
"It's a really good situation learning under him."
O'Brien, 26, said he had used his two 2016 games as fuel over summer in his quest to take his career to another level.
He said it had made it a no-brainer to remain at West Lakes after this week signing a two-year contract extension. It means he is contracted until the end of the 2019 season.
"I loved those two games last year," O'Brien said.