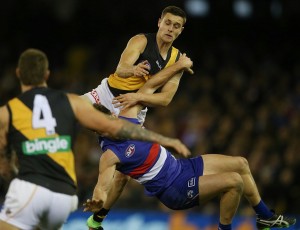 A TRADIE lifestyle calls for a tradie diet.
Jayden Short had just that.
A builder's labourer through his under-18 TAC Cup year with Northern Knights, iced coffee was a morning must and a sausage roll and bottle of Coca-Cola the go-to lunch.
A skilful kick on both sides, talent rather than fitness carried Short through his junior football years and saw him noticed by AFL recruiters.
But after joining Richmond via the 2014 rookie draft, there was a timely reality check.
"As a kid you eat whatever you want, but it's a pretty big shock when you come from under-18s to a lifestyle that an AFL player lives," Short said.
"I was running the 3km in my first year and the ruckmen were beating me, so that's not a very good look for someone who's 68kg back then.
"I was thinking, 'How fit do I need to be?' It was a bit of a shock that I needed to do something about my fitness ability and that brought me back to earth.
"Now I have salmon for lunch, so that's a bit different to a party pie."
Short made his debut against Collingwood in Round 2 last year and kicked three goals as a small forward.
But a poor second game in attack resulted in him being dropped to the VFL and it was there he was trialled in a new role at the other end of the ground.
"During the week before the game they said they'd give me a go down back and I went down there and got a fair bit of the ball so that's probably been the turning point," Short said.
"It felt so comfortable and now when I look back I love the backline a lot more than the forward line. It's so much harder to get a kick as a forward. It's been a good change."
Rated the best kick in the TAC Cup in 2014 with an efficiency of 73.7 per cent, Short has become Richmond's rebounding quarterback this season, his run and ball use an important part of the Tigers' new and improved look.
Averaging 376m gained per match from 15 disposals, the 21-year-old is part of a watertight Richmond back-six that is conceding goals from just 21 per cent of opposition inside-50s, ranked No.1 in the league.
"We've got three of the best key defenders in the competition so they need us half-backers to get the ball and run and use it well," Short said.
"You sort of take it for granted that you get to play with the likes of Alex Rance, Dylan Grimes and Dave Astbury back there.
"All the boys work hard and if there's any advice that needs to be given, they'll tell you. It's pretty cool to be a part of."
Asked how much his fitness had improved since joining the club, Short responded, "probably 90 per cent" and labelled housemate Kane Lambert a great example as "probably the hardest worker we've got at the club".
It is hard work across the playing group which Short credits for the Tigers' turnaround this year, after a lamentable finish to 2016 in which they won just two of their final nine games.
"It's just amazing what hard work in the off-season can do for the team and I think everyone worked pretty hard because last year wasn't fun. It's not fun losing all the time," Short said.
"We had a lot of media talking about us and it's hard to ignore. But we're enjoying our footy at the moment and everyone's playing to their strengths, so it's been good. Everyone's bought into what we're doing."
One of 11 current Richmond players studying Certificate III in Carpentry and Certificate IV in Building and Construction on their days away from Punt Rd, a tradie life awaits Short after football.
But as he continues to flourish on field after signing a two-year contract extension at the end of last year, the return to iced coffee and sausage rolls looks some way away.
"I'd done carpentry throughout school and I enjoy getting on the tools," Short said.
"But I'm very appreciative to get to play AFL for a living."