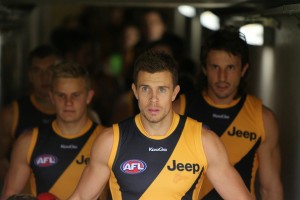 It's hard to be underrated when you were chosen as the best player of your year. But Brett Deledio is.
Deledio has laboured from the fact he has not proven to be the best player in his draft and has played in a poor team. He has been burdened by an expectation built from his name being called first on footy's true fantasy day.
He has been All Australian only once. Yet Deledio is a star in the truest sense: his team plays significantly better when he is there. They win with him.
If you consider the other No.1 draft picks of this century, Deledio sits comfortably behind Luke Hodge and Nick Riewoldt, but he might well be the next best player. Hodge and Riewoldt have not only talent, ability and class but leadership qualities greater than every other No.1 pick.
It is a matter of taste but Deledio is arguably next, ahead of Brendon Goddard and Adam Cooney. He is a superior player to the Carlton No.1 picks Marc Murphy, Bryce Gibbs and Matthew Kreuzer, better than Tom Scully but it is unfair to judge him yet against the younger GWS players Lachie Whitfield and Jonathon Patton. Likewise unkind to compare to even younger big forwards Tom Boyd and Paddy McCartin.
David Swallow is in his fifth year and Deledio is the superior player. And of course he comfortably surpasses Jack Watts.
Goddard, and Cooney for that matter, have had the advantage over Deledio that they have played finals and in Goddard's case, grand finals. They have been showcased in the biggest games, they have played in teams of elite ability that help elevate and complement their games.
Deledio has played two finals in 10 years and has not won one. He has been marked according to the company he keeps and the September holidays he has been able to book.
Cooney had a similar burst of speed, but Deledio the superior overhead mark. Like Cooney, Goddard's peak in 2009-10 was at a level higher than Deledio's but the Richmond player has been consistently strong.
Deledio is marked against the fact that while he might be the third or fourth of No.1 picks this century he was perhaps not in the best three players of his draft. Lance Franklin was the best player of that draft, Jarryd Roughead the next best. Deledio might have been the third best but Ryan Griffen and Jordan Lewis could equally have an argument for that place. It is a matter of taste.
Consider what might have flowed if Deledio had been at Hawthorn the past 10 years instead of Lewis.
It is like contemplating whether Marc Murphy, taken at pick one in his year, is superior to Grant Birchall at pick 14 that year. Birchall strikes you as the superior talent but that might in part be because he plays such a crucial role in the best team of this generation and Murphy toils for the poor Blues.
Deledio might be the Robbie Flower of his generation. Flower is the very archetype of the player whose career was not as recognised and decorated as it deserved to be.
Deledio, and Alex Rance, are the Richmond players who more than others affect whether Richmond wins or loses. Their numbers are identical for Tigers players who have played more than 50 games. When Deledio has played, Richmond has won half its games (52 per cent) while without him they have won a quarter of their matches (25 per cent).
His return in the last two rounds has coincided with Richmond turning around their sliding year.
When the game was to be won last week he went forward, took marks and kicked the goals that needed to be kicked. He did it in the clutch moments and had a similar impact against Port on Sunday.
He is a difficult player because of his pace and strength overhead so when he led from the goal square, key defenders could not keep pace and small defenders could not reach to spoil.
This year he has moved forward for longer – 23 per cent of his time now is as a leading target forward and so consequently in the last two games he has had 18 score involvements, which is the most of any Tiger.
He is the first among Tigers.