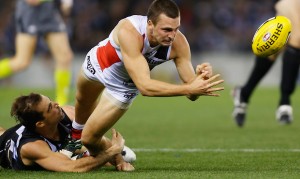 At a time of rebuilding, Jarryn Geary is well aware of the work needed to rise from the bottom.
With St Kilda embarking on a much-talked about rebuild, the team could do worse than look to Geary as an example of how to rise through the ranks.
The hard-running defender from Eaglehawk was taken with the 58th pick at the 2007 rookie draft – making him the Saints' fifth pick at that rookie draft and its 11th recruit for that off-season.
In short, Geary came to the Saints very much at the bottom of the pile.
After spending 2007 in the reserves, Geary impressed in the 2008 pre-season competition and was rewarded with a spot in the round one clash with the Sydney Swans.
He moved in and out of the team that year – at one stage winning the AFL's Rising Star nomination.
But Geary was still far from settled as an AFL player. While childhood friend and former Bendigo Pioneers teammate Joel Selwood was establishing himself as an outright superstar and multiple premiership player with Geelong, Geary was still experiencing the frustrations and challenges of being a fringe AFL player.
In the three years that the Saints finished in the top three from 2008 to 2010, Geary played 44 senior games but missed out come finals time every year.
Over that same time period, Robert Eddy, who joined the Saints in the same 2007 rookie draft played 33 games – nine of which were finals.
Eddy's career finished around about the same time Geary's started to gain momentum and as the Saints descended down the ladder, Geary's value to the team grew. As the senior, experienced teammates who kept him out of those finals teams started to depart, Geary stepped up to the breach and at the beginning of 2013 he was officially included in the St Kilda leadership group.
Those who had been watching the 25-year-old closely would have seen his inclusion in the group as a no-brainer.
It has become custom to see him first over the line in the pre-season time trials – even when coming from a handicap start as he did in one pre-season run in last year's high-altitude training camp in Boulder, Colorado.
Not only has he built a reputation as a hard-running, aggressive small defender, more than capable of a bit of niggle when needed, but he is also one of the more vocal members of the team behind the scenes.
After the off-season departures of some of the more extroverted members of the Saints team, Geary says he is one of several players stepping up when it comes to making noise around the club.
"I've always been pretty loud whether I was in the team or not, I was always out and about. I suppose I always had Milney (Stephen Milne) and Dal (Nick Dal Santo) to bounce off but now that they're not here I probably have gone a bit overboard," Geary said.
"It's not just myself – a few of the younger boys have really become more comfortable around the club which is good, you encourage that. There's Josh Saunders and even guys like Eli (Templeton) and Wrighty (Nathan Wright) who are coming out of their shells and are more up and about.
When someone like Milney goes you look for someone to try to fill that gap."
Milne's constant banter around Linen House Centre is almost impossible to replace but his baton as the vocal nuisance around the club has already been seamlessly passed on to Geary.
"It's probably something that I pride myself on," Geary laughs.
"I get a bit disheartened when I see someone else named as the biggest pest so it is something I really enjoy reading
in the profiles in the AFL Record. It means I'm having some kind of impression around the club."
Geary admits his two favourite targets are Clinton Jones and Lenny Hayes and says he gets satisfaction from getting a rise out of Hayes because of his reputation as one of the straight down the line, nice guys of the football world.
"You've got to pick your days with Lenny because some days he can bite back but other days he will embrace you," Geary said.
"Maybe it's just because he's getting older. He's probably getting less sleep now he's got a kid but he's always good fun. There's no anger towards you, he just swats you away like a fly."
The baiting and jokes could have Geary simply dismissed as a pest but a sign of leadership that he can hold court around the club in the way he does.
The value of that leadership can't be understated. Any discussion around leadership at St Kilda automatically focuses on the big three – Hayes, Nick Riewoldt and Leigh Montagna. But the external perception is that there is a leadership gulf at the club and no obvious successor once those three and their combined 752 games, eight best and fairests and nine All-Australian selections depart the Saints.
That perception was only enhanced last year when Ben McEvoy was surprisingly traded to Hawthorn in the deal that brought Shane Savage and the draft picks that netted Luke Dunstan and Blake Acres. An upstanding character and an established number one ruckman, McEvoy had been spoken of as a potential St Kilda captain.
So the question became more pressing – who will be the next Saints skipper?
There is no clear succession plan in place but Geary is one man who is expected to shoulder a greater leadership load as time goes on. The youngest member of the Saints' six-man leadership group says he along with David Armitage and Sean Dempster have made a conscious effort to lighten the load on Riewoldt, Hayes and Montagna.
"I think we need to take more charge of things and help those guys out a bit more. Last year we were in the leadership group and it was more of a learning year for us but this year we have tried to lessen the burden on them," he said.
"In terms of on-field stuff, you go out and play as you would. You can't really take away their ability or help them lead less because that is not in their nature. I suppose it is the little things around the club that they have been doing for years that Armo, Sean and I can take more responsibility on."
Geary's worth as a leader of the Saints grows that little bit more this Saturday when he runs out for his 100th game with St Kilda. It is a milestone that he hadn't given great consideration to when he was fighting to be noticed on the St Kilda rookie list, but one that gives him great pride now.
"I never really thought about playing 100 games so it wasn't something I looked forward to. In the early stages I was worried about trying to get a game," he said.
"The team was so successful in that period and I was in and out a bit. It's something I'm really proud to do for this football club."