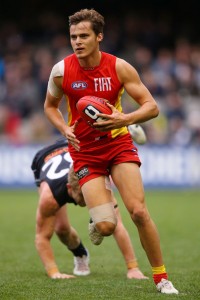 KADE Kolodjashnij has emerged from the Suns' 2015 train wreck in glowing 3D.
Playing all 22 games proved his durability, decision-making improved as the season unfolded and coach Rodney Eade said the 20-year-old was a developing leader at the young club.
"Kade is certainly a future leader. He is a confidence player and his self-belief has really accelerated," Eade said.
"In time we'll expect him to put demands on his teammates."
Kolodjashnij's pre-season has been solid and Eade sees a rapidly developing "professional" enhancing his credentials and challenging himself to reach the next level.
"This pre-season he's trying to make things difficult for himself, like taking the harder kicks (out of defence), which is something we are encouraging," he said.
"Hopefully next season he can elevate his game again and go to really good levels over the next three, four years."
Numbers alone suggest the defender may have suffered second-year syndrome amid the carnage that was the Suns' season after a stunning debut AFL season. Eade says nothing could be further from the truth.
With the team gutted by serious injuries much was asked of the Suns' generation next and the senior coach believes none stood taller than the Tasmanian who was taken with pick No. 5 in the 2013 draft.
"He's probably the one, or one of the ones, who made the most improvement in the last 12 months," Eade said.
"Guys can have second-year blues but his growth was fantastic.
"He's a quiet lad and probably lacking a little confidence in a few areas but with the responsibility thrust upon him with so many injuries … he was terrific, got a lot of confidence out of that and a lot of respect from his teammates."
Kolodjashnij averaged 22.3 disposals through 18 games in his first campaign. While the running half-back didn't miss a game this season he averaged 17.1 disposals and his marks and rebound-50s were also slightly down on his first year.
Eade put his hand up for contributing to Kolodjashnij's sluggish start to the season.
"His decision-making and execution was a bit down early in the year," he said.
"I probably blame myself for that because I played him on a wing — I thought he'd be a perfect winger — but he struggled in the role and his decision-making was down as well.
"Once we moved him back into defence that got better."
He also believes with so many of the Suns topliners in the stands opponents put a lot more time into Kolodjashnij in an effort to blunt his impact on the game.
"He was finding himself being tagged as well. Teams were trying to take him out of the game," Eade said.
"It was a great learning curve for him.
"There was one game we played and he was the most experienced defender and he'd only played 28 games.
"Normally with that number of games you're the least experienced, or just about, and you have experienced players around to support you.
"He was playing on the big names and expected to not only beat them but to give us drive and run."