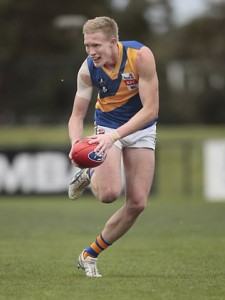 Jack Frost
Rookie Draft selection No. 46
Height: 194cm
Weight: 82kg
DOB: 25/2/92

About: Athletic key defender blessed with good pace and the ability to kill the contest. Began the year in the VFL reserves after recovering from hip surgery but ended the year strongly when he performed well in the VFL finals series for Williamstown where he played on opposition full forwards Dean Galea (Port Melbourne) and Lucas Cook (Casey Scorpions).
Derek Hine says: Jack has had an interrupted two or so years post his junior career. In the second half of this year, in particular, he was just able to really develop quickly and he had a terrific finals playing on well-credentialed players at a VFL level. Given that he had some serious injuries with operations on both hips and so on, he's an extremely athletic player, he's extremely competitive, so that really gives him a chance and it gives us another player who can potentially play on the athletic talls, if you like.
In his own words
On his Rookie Draft experience:
I guess over the last three years I've been a bit disappointed at times. The last couple of weeks have been pretty exciting. I had a meeting with Collingwood and then a medical. There was a bit of interest but until your name's read out you don't really know for sure. Right now it's mixed emotions, really. Three years of hard work comes down to one day and, yeah, I'm not sure whether to laugh or cry. A lot of emotions going around.
On his immediate emotions:
I was just sitting around, I had my best mate and my mum sitting at a laptop, just watching the live feed and it was sort of getting late in the draft and then my name popped up and it was sort of a bit surreal, but it was very exciting. Mum's obviously been there the last three years watching with me so I think when it popped up the main thing was probably relief. It's exciting times.. Derek's called me and explained what will be happening over the next few years, and I'll be pretty much straight into it.
On his pre-draft expectations:
Derek showed interest and he's obviously very happy with my progress, especially over the last year, so he was happy with me and I knew there was interest.
On the trials and tribulations of 2012:
This year was pretty tough. I missed the first six games because of the surgery I had late last year. It was tough finding my feet. I played most of the year in the reserves and was a bit rusty. I wasn't really up to the standard I was the year before that, but then I played well in one reserves game and then cracked into the seniors and from then on kept improving and finished off the year pretty well. I only got three goals kicked on me in the last four games. I played against some pretty strong opponents so I was pretty happy with myself.
On how he would describe himself as a footballer:
Very athletic. Quick off the mark. Defensive acts have always been a key for me. Just the willingness to keep getting better. The main aim is to eventually crack into the senior side and play good footy.