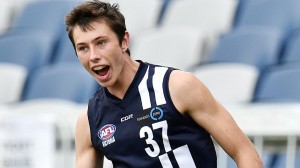 HE might have been an elite junior athlete but nothing could prepare Jack Henry for the intensity of an AFL preseason.
The 18-year-old product of St Mary's Football Club and St Joseph's College, who was picked up by Geelong in last year's rookie draft, made a positive start to his career against Hawthorn last Friday, including kicking a goal during the Cats stellar third quarter.
It was just reward for the youngster, who admits the number of training sessions, as opposed to the intensity of them, has been the thing that has struck him the most.
"It's been difficult, I think fitness wise I've been pretty good but in the gym I've had to work a lot harder with the weights," Henry said.
"With the frequency of training, usually you have a day off in between training sessions as a junior but the frequency is probably the hardest thing to get used to, but I found I got through it well (and it has obviously paid off for me).
"We do a lot more longer distance running which is different to what my athletics was, so it wasn't a real pivotal factor in having a good preseason, it was just getting through session by session and working with all the coaches looking at vision and trying to improve."
With several senior listed players who missed the Hawks game likely to be available for Geelong's match in Adelaide next Sunday, Henry may yet be rested or be given game time with the VFL.
He has worked closely with the Cats' coaching staff this summer in a bid to fast track his development, and said some one-on-one work with a veteran defender had been hugely beneficial.
"I've mainly worked with Shane O'Bree, he works a lot with us first year boys. We watch all the vision with him but you work with Nigel Lappin and Matthew knights as well," Henry said.
"Tom Lonergan has been a really big help for me, I play on him a fair bit and he has step-by-step coached me through patterns to run and stuff like that which has been really helpful.
"He has been a really good teacher and it's been great being close to him."