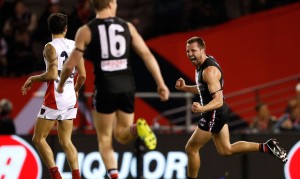 Jarryn Geary will lead the Saints into a new era, announced as the club's 62nd captain.
Drafted to the club as a rookie in 2006, Geary was elevated to the senior list in 2008 and now ranks among the likes of Kieran Jack, Nick Maxwell and Matthew Boyd as former rookies to achieve AFL club captaincy.
The versatile defender's competitiveness and team-first approach are hallmarks of his game, which earned him the Lenny Hayes Player Trademark Award in 2016 and Robert Harvey Best Clubman Award in 2015.
He also finished runner up to triple club champion Jack Steven in the 2016 Trevor Barker Award.
Geary said he was excited to be chosen as captain and relished the opportunity to lead the club through its next exciting period.
"I am incredibly honoured to be named captain of St Kilda Football Club," he said.
"St Kilda is a proud and historic club with a really bright future ahead of it and I am humbled and excited to take on this responsibility.
"I have learnt so much under outstanding leaders like Roo and Joey and I can't wait to lead this playing group.
Senior Coach Alan Richardson said the 28-year-old was the right choice.
"We have gone through a thorough process to elect our captain and Jarryn was an overwhelming choice," Richardson said.
"Jarryn's a selfless team man who speaks through action and his display of leadership both on and off the field is exemplary.
"He demands a lot of himself and challenges those around him to be at their best."
Bendigo bred Geary will be joined in the leadership by three new additions in Josh Bruce, Seb Ross and Dylan Roberton.
"Josh, Seb and Dylan are all emerging leaders who, paired with David Armitage, Jack Newnes, Jack Steven and Mav Weller, will combine to make an exciting leadership group ready to take us to the next level," Richardson said.
"They're young, but all very individual and unique operators.
"Josh is always working at 100% and pushes himself hard on the track. He has established himself as one of our key forwards and he inspires his team mates with his energy and contest.
"Seb is extremely diligent and determined. He leads by example and works hard both on and off the field. Seb has a great balance of challenge and encouragement in his communication.
"Dylan is vocal on field and is very calm and collected in how he leads. His ability to read the game and organise his teammates is a real feature of his leadership."
President Peter Summers acknowledged the work of many people who have developed our leadership group and emerging leaders to ensure the club had a deep list of candidates.
"The board was pleased to ratify Jarryn's appointment and we are confident he is the correct man to lead our club into the future," Summers said.
"We congratulate Jarryn on the honour of captaining our proud club, and we would also thank him for accepting the role given it comes with great responsibility and obligation to our players, coaches, staff, partners, members and fans.
"The board would also like to acknowledge Nick Riewoldt's outstanding contribution as captain and his selfless act of stepping aside from the leadership position, which has created the opportunity for Jarryn to lead the group into the next exciting chapter of our club's history."