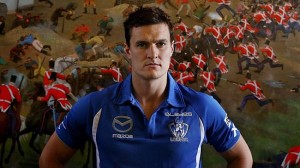 SCOTT Thompson, Jarrad Waite, Ben Jacobs and Declan Mountford have re-signed with North Melbourne on one-year deals.
North Melbourne confirmed on Thursday morning the out-of-contract quartet had recommitted for the 2018 season.
Veterans Thompson, 31, and Waite, 34, will have important roles to play next season in defence and attack respectively, when North will look to blood their raft of emerging young talls around them.
North football manager Cameron Joyce said the club was confident Waite had another year of football left in him despite being restricted to just 10 games by injury in 2017.
Joyce also said Waite and Thompson would play important mentoring roles next season.
"We know that they're capable footballers and, in terms of their form, they can play another year," Joyce told NMFC On Air.
"But we've also got a lot of young key-position players – Nick Larkey, Ben McKay, Daniel Nielson, Sam Durdin, just to name a few – that having the support (of Waite and Thompson) around them, not just in terms of not throwing them to the wolves a little bit, but also to help coach them up (was another factor in our decision).
"Both of them are really good in that respect that they're able to teach the guys the craft of playing as a forward or as a defender. We're actually quite excited about the possibility of the boys staying around and giving a little bit (back) to our young talls."