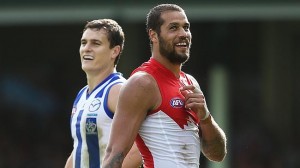 This weekend, North Melbourne's Scott Thompson will need to be herculean, as the full-back faces football's own version of the Hydra, Sydney spearhead Lance Franklin.
Every time Hercules raised his sword and sliced off the Hydra's head, another two grew in its place.
Thompson may experience such frustration this weekend when he faces an opponent in Buddy and his almost limitless weapons.
Even if he gets a fist in and spoils a mark, Franklin is just as likely to rove his own crumb, turn and kick a long goal – such as the one he kicked, 65 metres out on the run, against Fremantle in the final quarter two weeks ago. You cut off one head, another two grow.
"He's good one on one, has good speed, gets up the ground and can kick 65 metres," Thompson said on Tuesday. "It's daunting when you look at all those things, but you just go through individually how to stop each one."
Against Fremantle, Franklin, quiet by his lofty standards for the first three quarters, took a handpass from teammate Dan Hannebery on the halfway mark, ran 10 metres and then unleashed from inside the centre square, bouncing through a goal to slam the door on a late comeback.
Minutes later he was at it again, making an intelligent, diagonal, inside-to-outside run through the 50 before receiving a teammate's handpass. Franklin continued his run to the boundary line before slapping through an audacious left-foot goal from 35 metres out – a goal few other players would have even thought to attempt.
In this Friday's final, Thompson is likely to be given the task on Franklin or fellow tall Kurt Tippett. The duel shapes as crucial to the outcome of the match and both teams' hopes of reaching the grand final.
Statistics show that when Sydney's players kick inside 50 they go to Franklin more than twice as often as any other player. For all the discussion of Sydney's multifaceted forward line, Franklin has still been targeted this season almost as often as Tippett, Adam Goodes and Sam Reid combined.
And that seems to be the best place to put it. From those entries, Franklin has kicked 70 goals and had 16 goal assists – enough to win the Coleman Medal despite only playing 20 games this year.
But it also means that should Thompson hold Franklin, North will go a long way to winning the game.
Not that that will be easy. A season ago, there were concerns that injuries to Franklin's wrists had hurt his marking. Opposition teams were even said to be building strategies around the expectation the then Hawthorn spearhead would fail to clunk marks.
Not this year. Franklin ranks fourth in the competition for contested marks in Sydney's forward 50. The Hydra has grown
yet another head.
"He's a super forward," summed up Thompson. "He's a great player and he could kick a heap on you in five minutes."
All that makes it seem as though Thompson is without a hope, which would be unfair. Thompson was named All-Australian last year. He leads his club for intercept marks and possessions. In marking contests, he gets in a spoil 71.9 per cent of the time.
And most importantly, despite giving up six centimetres and nine kilograms to Franklin, he is the only defender to keep him goalless this year – in North's round-four win in April.
But if Thompson does get Franklin – as seems likely – it will not all be up to him. North's midfield will have a vital job in limiting the quality of the kicks coming towards Franklin by putting as much pressure on Sydney's outside runners as possible.
Sydney's key inside-50 player is speedster Lewis Jetta, who averages a team-high 4.9 inside-50s a game. And his uncontested disposal stats reveal he is regularly kicking the ball towards the forwards without being under any pressure – something North must close down on Friday night.
"There's going to be a lot of pressure on our midfield to make sure their midfield can't take the ball in with time and space," North assistant coach Leigh Tudor said.
"If you give the Sydney midfield time and space, they can do a lot of tricks. They're such a good contested side, but they're very good with their uncontested stuff. And if you give them time and space, they're going to hurt you."
Read more: http://www.theage.com.au/afl/afl-news/north-melbournes-scott-thompson-v-sydneys-lance-franklin–hercules-versus-the-hydra-20140916-10hqf8.html#ixzz3DivtbvBp