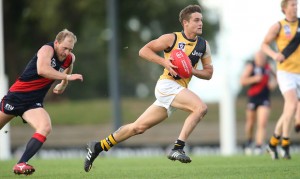 Jayden Short was in awe, but certainly not intimidated, by the huge crowd (72,761) and the atmosphere that pervaded the MCG in his senior debut for Richmond against Collingwood last Friday night.
The 20-year-old speedy, skilful small forward, kicked an equal team-high three goals and injected some valuable vitality into the Tigers' attack.
On what turned out to be a disappointing evening for Richmond, Short clearly was a bright light in the one-point loss.
"It was amazing (the crowd and atmosphere)," Short told 'Roar Vision' in the rooms post-game.
"I took it all in, in the warm-up . . . didn't really take that much notice of it during the game.
"And, three goals was just a little bit of a bonus . . . It was good."
Short admitted to being extremely surprised to get a call-up to Richmond's senior side on the same day he'd been elevated from the Club's rookie list to primary playing list.
"I was a rookie yesterday (Thursday), and now I've just played my first senior game. So, definitely a very big surprise," he said.
Star Richmond key forward Jack Riewoldt was full of praise for Short, and his initial performance, at the game's highest level.
"If you could look inside 'Shorty', you'd know he had the biggest heart at our footy club," Riewoldt told 3AW.
"The stature doesn't tell the true story with Jayden.
"He impacted really early. I don't think he had a heap of touches, but what he brings is a little bit of spark . . .
"It's a great story. He was actually presented his jumper by Nathan Foley, who came through that similar path of the rookie draft, being bypassed in the national draft, and getting his debut game in his second season.
"To hit the scoreboard's obviously great as a small forward, so I'm excited for him and rapt to see another young guy coming into our football club and playing his role."