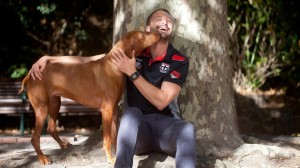 There's a dog squad down at St Kilda. There are no Jack Russells, but there is a Jack Newnes, and a Jack Steven. Blake Acres has a pooch, so does Eli Templeton. Lenny Hayes isn't there any more, but he too is a dog lover. David Armitage joined the club just last week. But Jarryn Geary thinks his Hungarian Viszla Lilly is the pick of the pack.
"There's a bit of a competition as to who's got the best dog and who's got the worst dog," Geary says.
"Everyone at the club's into it now. I'd like to claim the title purely and simply because she's the best looking out of them all. All the boys have little dogs and I've got a big hunting dog. Mav Weller's got the most annoying dog, you can't take him anywhere, his dog's biting your dog."
The canine fad at Seaford was disappointingly fitting for both Geary and for the Saints last year, for them 2014 was a dog of a year.
St Kilda won just four games to claim their first wooden spoon in 14 years, while Geary – having finally established himself as a consistent backman and leader – was struck down with a ruptured ligament in his elbow after round seven and did not play again. Having just crawled to 100 games in his eighth year at the club, it was a bitter pill.
"Purely because of the fact we'd been losing so many games last year," Geary said in the lead-up to his first premiership season game in 11 months against GWS on Sunday.
"Previous times when I'd been injured I'd never really been in that position when we'd been losing. You wanted to be out there because you wanted to try and help."
Geary, 26, might not have expressed such proactive sentiments five years ago, but it was not because he was an altogether foreign face to footy followers. In the Saints' three consecutive top-four seasons of 2008 to 2010, he played 10, 15 and 19 games respectively. He was around the mark in a strong side, but despite those solid hauls could not scrape into the St Kilda team for even one of the side's 10 finals over those three years.
Critics on occasion lashed then Saints coach Ross Lyon for not promoting youngsters, but Geary lays the blame at his own door, believing he had thought the team's senior players would do the dirty work.
"I probably just sat back and watched a little bit, rather than go out and do things that I should have done off my own bat."
Lyon told Geary it was a lack of consistency that was holding him back, and the one-time rookie from Bendigo concurs, pointing to a stretch between rounds 12 and 14 in 2009 when in consecutive weeks his disposal tallies read: 6, 22, 4. "You can't go from that level to that level. Your bad game needs to be a bit closer to what your good game looks like."
Geary broke a leg early in 2011, but after returning from injury he came on in leaps and bounds. Before last year's elbow setback, he had played 56 of the last 59 games, and finished in the top-six of two St Kilda best and fairest counts. This will be his third year in the club's leadership group, a position he takes seriously given the dearth of 23-to-28-year-olds on the Saints list.
"We sort of feel like we're that link between the younger guys and the older guys. We feel pretty comfortable trying to be a shoulder to lean on for the older guys, and for the younger blokes we hope they come to us if they have any issues or need anything."
"Last year, because I wasn't playing I saw a lot more. I took that approach of helping out on game day in terms of going down to the rooms and telling blokes what I've seen and helping them play better and or if they needed a pat on the back.
"You normally have someone who's either quite loud and boisterous as a leader or someone who likes to lead by actions, and I'm sort of in between. If I see something I'll say something and if I think if I need to read through actions I'll do that as well."
With Brendon Goddard and Ben McEvoy both leaving the club in recent years, there is no heir apparent to Nick Riewoldt's captaincy. Geary is comfortable throwing his hat in the ring, but contends it will be the depth of leaders that holds St Kilda in good stead.
"I'd like to think Nick would do it for as long as he's around, just because of the calibre of captain he is and how he plays. There might be a stage where someone has to step up for a period of time. If that was me or Armo or Luke Dunstan, the main thing would be that we've just got a good amount of leaders under us.
"We need five or six blokes to really drive the club forward."