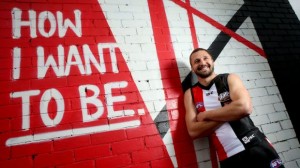 There's a good reason Jarryn Geary's name gets thrown up as St Kilda's potential next captain despite a profile lower than the other names being bandied about for the role. It's because he leads by example, whatever the situation or subject.
Take Saturday night's "pride match" in which the Saints and Sydney will embrace the cause of sexual equality. Geary's involvement in the issue goes far beyond the rainbow-coloured number he, along with his teammates, will take the field in against the Swans.
Having represented the club in several pride marches as part of the Midsumma Festival, Geary is also an ambassador for LGBTIQ support group "Stand Up Events". It's a role forged not through any particular personal connection, but simply because of beliefs formed through hearing others talk about their experiences.
"I'm a country boy [from Eaglehawk] and grew up spending my whole weekends involved with footy and cricket clubs," he says. "It's hard hearing that people left those sort of environments because they didn't feel like they were respected or didn't feel comfortable being themselves.
"When I was growing up, I'd use that sort of [homophobic] language every day, but I didn't know the effect it was having on people, I didn't really understand it at that point. When you think back, it must have been a horrendous environment for some to 'come out' in, or to have to hide who they were."
That belief in an inclusive environment was reinforced when he marched for the first time down Fitzroy Street, St Kilda. "I felt a bit overawed because I felt everyone was looking at me. What I didn't understand was how much people were getting out of me being there, just because I was happy to walk down the street with them."
Geary is the quintessential team man. The bloke who does the unglamorous jobs, who does what needs to be done, however unspectacular, and gets far greater pleasure in his team's success.
Which means he is pleased about the captaincy discussion. Not because he's being mentioned in dispatches as the favourite to replace Nick Riewoldt when the veteran stands down from the role, but because there's a discussion involving several candidates.
He concedes the raised profile wouldn't necessarily come naturally to him, despite having played nine seasons and 139 games. But that's a minor worry, more than outweighed by the genuine excitement that he's just one of a number of potential successors including Leigh Montagna, Jack Steven and David Armitage.
"We don't have a massive standout candidate, so whoever it is is going to have a few good people next to him, which is exciting, because we've all come up together," Geary says.
And the success again starting to come the Saints' way five years after the departure of Geary's first coach, Ross Lyon, will taste all the sweeter for the hard yards done since then, in both an individual and team sense.
Like his club in 2009-10, Geary got awfully close to football's ultimate without actually getting to taste it.
He played 15 games in the first of those seasons, 19 the second, yet both times was dropped close to the business end of the season, named an emergency in two grand finals. He took part in the grand final parades, did the warm-ups, but didn't play. Had Zac Dawson not recovered from an untimely bout of food poisoning the night before the 2009 grand final, the epic clash with Geelong would have been just his 26th senior game.
He's added well over 100 to that tally, but the chance hasn't come again. Indeed, two seasons ago, Geary was part not of a premiership team, but one which took out a wooden spoon. Which has made the considerable gains made this season all the more pleasing. Not that he's ever lost hope.
"I've always thought we've been better than what we've showed," he says. "I was someone who thought it was going to happen quicker than most, unrealistically probably, but I've just always had that belief.
"I just think at times the team hasn't believed we could be as good as what we can be. Even this year, at times I think maybe we've lost games because we haven't believed in ourselves enough."
But as St Kilda presses on with the still realistic hope of finals football this season, Geary knows there's a lot more substance to the confidence now, all over the ground, starting in midfield.
"I look at Jack Steven, and when he's struggling with a tag, Seb Ross is able to step in and fill that void, or Luke Dunstan, whereas previously, if Jack or 'Armo' [Armitage] didn't play well, for example, we'd struggle."
It's the same up forward via the emergence of Tim Membrey, the presence of Josh Bruce and Paddy McCartin taking some of the load of the perennially overworked Riewoldt. And in Geary's own defensive constituency, where Shane Savage and Dylan Roberton can rebound enough to allow him to really lock down on dangerous small forwards, such as Cyril Rioli, Eddie Betts or Lindsay Thomas.
"My output in terms of possessions hasn't been as high over the last couple of years, but I think in terms of the role I've been asked to do I've been reasonably consistent this year," Geary says.
"I really like the role I play. I still think I can improve my attacking side, and I'm always looking at ways to do that. I probably haven't reached my potential in that area. But I might not have to, if we've got blokes like Savage and Roberton doing that. That's why I really like playing in a team sport, because I feel like I can play to the strengths of my teammates."
Geary enthuses about all his younger colleagues. "Look at Jade Gresham, and how he takes the game on. You sit back and go 'Jeez, this kid is playing his 15th or 16th game and he's running around blokes and attacking the game'. I'm not sure that would have happened a couple of years ago, because we weren't at that level."
Geary knows he won't ever be a Gresham. But the tone is of genuine pride, the sort of pride a natural leader takes in a project, be it a young gun in a rapidly emerging football career, or in a cause he's committed to backing up with actions, not just words.