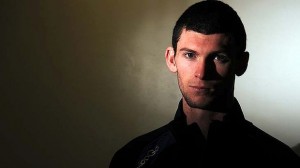 On and off the field, people have made their mind up about Jarrad Grant without getting the full picture. That he doesn't have the look of the live-and-breathe-it modern footballer has made the dots easier to join.
"I guess people perceive me a certain way, the way my body is, my body language, people think I don't care too much," the 24-year-old says. "A lot of people don't understand me unless they spend a lot of time with me. That's fine by me. But I set high standards for myself, I want to play well and contribute."
Even in the cheek-by-jowl existence of a football club a man can be a relative unknown if he so chooses, yet Grant is no outsider. He is popular, highly regarded for his smarts in understanding both the game and the world around it, and part of a sub-set the epicurean Will Minson calls "the anti-club", who regularly seek out a richer lunchtime experience than what's on offer in-house.
This is not the sapling-spare, brooding young man of caricature, whose eccentric kicking style seems the perfect icing on a rare cake.
Grant shrugs it off, admits his game face doesn't include a smile, but says people don't see the other side that's "quite jovial, a bit silly at times, getting people wound up a bit".
He lives what he calls "a bit of a two-way life", becoming just one of three old Frankston schoolmates sharing a house in Altona North when his working day is done, playing golf and doing ordinary 20-something things. In mid-May, he returned to his old home suburb for one of the most testing days of his career. Many saw it as doomsday.
The critics weren't interested in the back and hamstring tightness that surfaced in the Western Bulldogs' final NAB Cup game, derailing a full pre-season and setting him on a frustrating path of playing one VFL game for Williamstown, missing the next, back, then out, over and over. When he couldn't play two weeks running, and with the Dogs' alignment allowing only 11 listed players to turn out for Willy each weekend, Grant was brought back through the VFL reserves.
"It was one of the hardest days, a bit demoralising to be honest," he recalls. "I knew it was for a purpose, that I had to go and do it – I'm a professional athlete and that's what was asked of me." He knows people drew their own conclusions, but says it was "just part of the experience".
The game started so early he stayed the night before with his parents, had to be at the ground at 8.30am, and laced his boots alongside a room filled with unfamiliar faces. Grant's visage lightens when he's asked how the weather was.
"It's never too great down at Frankston, the bay breeze coming through isn't very forgiving," he says with a warm smile. "It wasn't a beautiful, glorious Frankston day – but there's not too many of them!"
It was a Sunday, and even with the early start the crowd was dotted with family and friends there to support him, and others keen to let the AFL 50-gamer know how far back in the pecking order he stood.
He struggled to get a kick early, but found the ball when shifted to loose man in defence after half-time. The aim was never to shake him up, rather to get some touch and fitness back, with no pass mark set on goals, possessions and the like. "It was just having a run."
The experience might have left a No.5 pick feeling like an outcast, but Grant long ago stopped defining himself by the number he was ranked in the 2007 draft.
Then-Bulldogs recruiter Scott Clayton famously said he'd swim to Williamstown if he wasn't the next best player behind Matthew Kreuzer and Trent Cotchin; Grant says he's not sure if Clayton has needed some new bathers, and tenders rookie selection Luke Dahlhaus as evidence of the folly of slavishly playing by numbers. "Once you get here, whatever number you were taken is irrelevant."
Coach Brendan McCartney has provided a reassuring ear, weekly throughout the season going over his VFL performances, reminding Grant he belongs on the main stage, reinforcing what he must do. "He wanted more of a ruthless approach from me, to be more consistent in my attack on the ball. A bit more appetite for the ball and the contest."
He says his Bulldogs teammates have been terrific throughout. It's made going to work each day easier, helped him overcome a challenge that might have beaten him. Three months ago, coming out of contract and a long way from the front line, Grant could easily have been buried by the thought that he would not be a Bulldog – and perhaps not even an AFL footballer – in 2014.
"There's a big mental side in this game, I don't think people understand some of the things that can go through your head. But the reinforcement from my teammates, from the coach that he wants me back in, that's as much as you need to hear," he said.
He has played the last seven games, recorded two of the biggest possession-winning efforts of his career, kicked goals, and still contributed when he hasn't. Like the Bulldogs, he has gone from not so long ago being in the doldrums to having a clear and bright path ahead.
"We've taken a lot of steps forward," he says of the collective. "We still need to get better in areas and we'll work on that over the summer and come out next year bigger and better."
The young man dubbed "Spindleshanks" may never get any bigger, but at the end of a season that might have broken him, he is getting better.