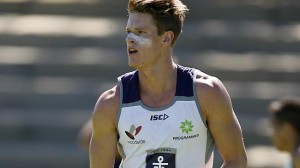 When young forward Matt Taberner lines up next to Matthew Pavlich in Fremantle's forward line he pinches himself.
Pavlich has played 300 more games than Taberner, who came to Fremantle in 2012 at pick 11.
Taberner said he has learned a lot from the six-time All Australian.
"He's shown me some tricks of the trade," he said.
"The forwards are great a giving feedback, especially Pav.
"That makes it really easy for a young bloke like myself to learn."
Taberner has kicked 17 goals from 19 games, including six this year, and has offered another tall target in attack next to Pavlich.
"It's good to get off to a good start as a team, I think I'm playing my role but still have areas to improve," he said.
Taberner said Pavlich led by example on the field and off the field, particularly with his meticulous preparation.
"The way he goes about it, his preparation is really the best there is," he said.