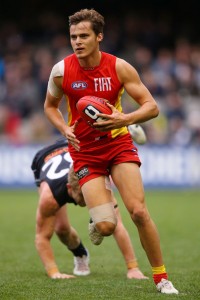 KADE Kolodjashnij says with three separate trips to hospital this season, 2016 has undoubtedly provided the steepest learning curve of his young career.
The smooth-moving Gold Coast half-back has twice missed matches because of unexplained abdomen pain and also missed another with concussion following an accidental knee to the back of the head from Richmond's Sam Lloyd.
It's all added up to a lack of continuity and a dent to the 21-year-old's confidence.
It's a far cry from his first two seasons, when Kolodjashnij played 40 games, including all 22 last season, and was consistently among the Suns' best.
Since returning from the concussion in round 15, the Tasmanian has steadily improved his form, averaging 20 disposals and seven marks over that span, culminating in arguably his best showing of the year against GWS last Saturday.
"It's been an up-and-down year for me personally," Kolodjashnij told AFL.com.au.
"It took its toll going to hospital, then getting knocked out, I missed a few weeks of training there.
"I wasn't feeling too great.
"I'm getting that confidence back now. I've been able to get on the park a lot more and building it from training and continuity in games every week."
Kolodjashnij missed matches in round one and round 10 after being rushed to hospital.
Despite a litany of tests, he still has no idea what caused the problems and will go in for keyhole surgery once the season has finished.
"Physically it takes its toll, I lost a bit of weight there and it took two, three, four weeks to regain my fitness," he said.
"It also takes a toll mentally as well with those setbacks.
"I've been pretty lucky the first couple of years, been able to get on the park most weeks and play most games.
"I've definitely learnt a lot this year, it's not all ups, there's some downs as well. "
Kolodjashnij said he had built his game off defence in recent weeks and the run-and-carry and good ball use that characterises his game flowed off the back of that.
He said it was a mantra that had trickled through the rest of the heavily undermanned Suns.
"Defence is really important in the modern game. When you defend well, you normally play well as a team," he said.
"The coach has been massive on that.
"The rest of the boys' talent shows after that. It's been more of a focus the past couple of months."