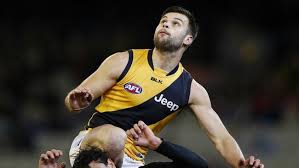 RICHMOND forward Ben Lennon says he has "a lot to prove" after failing to cement his spot since being selected as a first-round selection in 2013.
Lennon, 21, has been acknowledged as a player of much talent but has failed to play more than nine games in a season.
A variety of injuries troubled him last year, including shoulder surgery on his right AC joint.
"It's definitely frustrating watching from the stands. Whether it's injury or bad form, you just feel disappointed," Lennon told richmondfc.com.au.
"I feel like I've got a lot to prove this year and I'm just taking every training session as something to look forward to and try to get something out of it.
"Hopefully come the middle of the year, I'm not sitting in the stands, I'm actually out there so that's my main goal."
In 2015, Lennon played the final eight matches of the home and away season but was named as an emergency for the Tigers' losing elimination final versus North Melbourne.
"The hardest thing about not being selected in that game was playing in front of 100,000 people and if we did win, it would have been awesome to feel that success," he said.
"That spurs me on, to hopefully one day if we do make finals, that I'm not on the edge, I'm actually cemented in the team. It definitely drives me."
Lennon said this pre-season had been tracking a lot better than his previous three, and he had completed every session for the first time. He acknowledged a need to improve his defensive game, as well as his speed.
"I'm slowly chipping away at it (defensive work) and I feel like it's getting better," he said.
"That was another thing I identified, along with the coaches, at the end of last year – my speed.
"I had a family friend who is a sprint coach so I teed it up with him and it's held me in good stead.
"I still continue to do it after training with Peter Burge (physical performance manager) so hopefully that will help with the continuity of completing every session, and hopefully you'll see it in my games throughout the year."
Richmond went through a change in coaching personnel in the past few months, with former Brisbane Lions coach Justin Leppitsch returning to Punt Road as forwards coach.
"The club's a completely different place to what it was last year. That's no disrespect to the people that were here last year," Lennon said.
"I've really loved working with Justin Leppitsch. His knowledge of the game has been really great for me. I've been learning a lot off him and feel like I'm going to really enjoy playing for him this year."