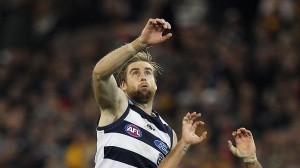 I've known Tom Lonergan for as long as I can remember.
He was in the year below me at school. His brother Marc was in the same year as me and his sister Kate was in the same year as my sister.
My dad coached Tom's oldest brother Terry in the Yarrawonga reserves and I commentated the Ovens and Murray match of the round with Tom's father Bernie and uncle Des – two great characters of the region.
My connection to the Lonergan family is no different to so many others who grew up in Yarrawonga. They are the type of family everyone knows and, more importantly, they are the type of family everyone likes.
Tom is no different to the rest of the Lonergan clan – fun, unassuming and down to earth. He's a lad, a larrikin and, when appropriate, as mischievous as the rest of them. He's a bloody good bloke.
His football career has also shown how courageous he is. He was not handed a senior position on a platter. Far from it, he had to fight hard for it.
Then, in 2006, after just seven games he was crunched while backing back into a pack. He was placed in an induced coma, lost his right kidney.
Tom lost 17 kilograms during the ordeal and was advised by more than a few to give the game away.
He didn't. He wanted to play again, even if it was just one last game.
He came back through the VFL, won a premiership in 2007 and was awarded the best player on the ground. It was a mighty comeback and one that would have been enough for most.
But not for Tom. He fought his way back into the senior team – first as a forward and then holding down full-back, playing on the deepest, often biggest opposition forward, including the likes of Buddy Franklin and then Lions champion Jonathan Brown.
In 2011, he became an AFL premiership player when the Cats triumphed over Collingwood. Lonergan's performance, particularly when playing on then Magpie Travis Cloke, went a long way to ensuring victory.
And this weekend he plays his 200th game for Geelong against Brisbane. Naturally, his whole family will be there – as proud as punch.
Many footballers play 200 games and many other athletes can recount more than a few moments of adversity that they've had to overcome to succeed.
But Lonergan's story of courage, determination, hard work and patience is as inspiring as any. His 200-game milestone is not as much about the games played as the strength he has shown to play them.
And through it all, he has remained the same friendly, fun, down-to-earth bloke that he was when he was running around for the Yarrawonga under-18s all those years ago.
Little did we know way back when that he'd one day be a 200-game premiership player for Geelong.
So, from one Yarrawonga boy to another, well done Tommy. You've been an inspiration and we're very proud of you.