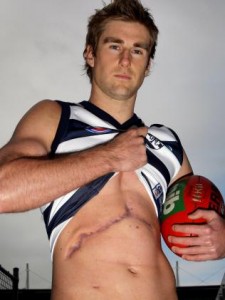 IT was a "foolishly courageous" manoeuvre that almost cost the Cat's defender his life, but for all the losses Tom Lonergan suffered after the brutal blow to his back, there have been great gains.
This weekend marks 10 years since the lanky young man from Yarrawonga put his body on the line for the ball and almost died during just his seventh AFL game against the Demons.
On Saturday he will play on the same field, against the same team.
He may have one less kidney, but he now has more than 180 games under his belt, and the day has extra significant because it's the day that his first baby is due.
Although if it wasn't for the generosity of others, none of it would be possible.
As Lonergan underwent surgery to stem massive internal bleeding and remove his lacerated kidney, doctors always had another bag of donated blood to string up to save him.
It's estimated that at least 40 units of blood was pumped into his body, an amount that it's believed almost drained the Geelong supplies of his uncommon blood type.
Behind every bag of blood is a donor, a simple fact that is often taken for granted.
"I feel really guilty that I didn't think about it before the accident," Lonergan said
"As a young 22-year-old kid you think you are bulletproof and nothing can ever go wrong, but if there weren't people who were willing to give blood, I wouldn't be here.
"I'm forever grateful to people who do give blood: it saves lives, it saved mine."
While the shocking clash almost killed him, it gave him the type of perspective that can only be gained from losing what you love, or coming close to it.
"It was a big reminder that football, life can be turned upside down very quickly and you've got to make the most of what you love doing."
Since his accident Lonergan has tried to give back by becoming an ambassador for organ donor awareness group Zaidee's Rainbow Foundation, and now, a blood donation advocate.
Geelong Cats club doctor Geoff Allen believes the shocking injury was the making of Lonergan as a player.
"It's great seeing him go from near death to having a really successful career," Dr Allen said.
Despite the significance of this weekend's match, the 32-year-old will treat it like any other game.
"To me it's pretty similar to most other games, at the end it would be good to be able to look back and hopefully be unscathed."
He also hopes his baby can hold out a few more days to give him the chance to play.
Blood Service spokeswoman Erin Lagoudakis said his story showed that although no one ever expected to need blood, they do expect it to be there when they do.
"If it weren't for those generous blood donors, Tom wouldn't have been playing for the last 10 years, and he wouldn't have been about to start a family," she said.