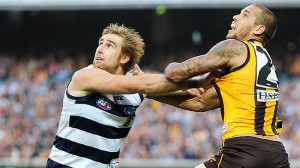 Chris Scott would've shaken hands with every player as they walked into the rooms on Saturday night.
He would've admired Joel Selwood in the middle, the coolness of James Kelly and Jimmy Bartel, the rebound of Corey Enright and Andrew Mackie, and absolutely loved Jordan Murdoch's three-goal final quarter.
And then there was Tom Lonergan.
He deserved a handshake and a warm embrace from the coach, for Lonergan – again – took on the most difficult job in football and – again – came out the winner.
Lonergan is a Buddy killer.
In another absorbing contest between these modern-day giants, Lonergan had just six possessions and five marks, while Franklin was contained to 14 possessions and one goal.
In their two encounters this year, in Round 1 and Round 15, Franklin has kicked just three goals.
The time before that, in Round 2, 2012, Lonergan kept Franklin goalless.
So, in their past three matches, Franklin has just three goals in games decided by 10, seven and two points.
While the immediate past belongs to Lonergan, Franklin has also had success on the Cats backman.
In the 2011 qualifying final, Franklin kicked 4.3, in Round 12 of the same year he kicked 4.2 in a five-point loss, but in Round 5 of 2011, Franklin could only manage the one goal in a 19-point loss.
In Round 15 of 2010, Franklin managed three goals. But in Round 2 that season Lonergan got him again and he only kicked one from six possessions in Geelong's nine-point victory.
In their past six encounters, Lonergan leads 4-2, and off the top of the head, I can't think of any other backman who is as reliable against Franklin as the unassuming Lonergan.
He remains one of the miracle stories of footy, having almost died on a hospital bed with internal bleeding in 2006.
And that may well be the headline act when his career is done and dusted.
But Lonergan's is more than a story of survival. It's also a story of resilience and late blooming.
His first season was '03. He made his debut in '05, played seven games before the major collision, was a forward in '08, lost his position to Tom Hawkins in '09 and returned to the team as a defender, taking the spot left by retiring skipper Tom Harley.
This is his 11th season and arguably his most important.
Indeed, greatness is defined in many ways.
For Franklin, who has a team willing to pay him up to $1.5 million a year and his own team ready to part with $1 million, it must be his ability to stand up in big games.
It's not all about goals for Franklin, and his ability to play team football instead of Buddy football has been identified this year.
Still, the Hawks have not beaten Geelong for five years, and in the past three games Franklin has not made a significant difference.
The greats make a difference. Lonergan is an old-fashioned backman. You won't see him stretching out of the back half, taking bounce after bounce.
He plays close, uses his body, is a solid mark and, most importantly, when playing against Franklin, he keeps his feet.
He is helped, of course, by a strong work ethic from his midfield teammates. Time and again on Saturday night, the Hawks bombed it to Franklin while under pressure, and Lonergan and company comfortably had Franklin covered.
Lonergan spoke yesterday about his battle with the game's most dangerous player, and heaped praise on his teammates.
"If you had a good day that means the midfielder put on a lot of pressure, which makes your job easier whether spoiling or marking," he told Triple M. "I thought we had a good duel."
Logic suggests Lonergan and Franklin will get another crack at it this year, some time in the finals, perhaps even on Grand Final day.
If so, the pressure on Franklin will be absolute.