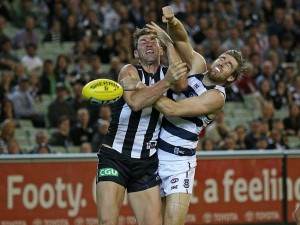 Full-back isn't the sexiest position on an AFL field. But it's arguably the most important.
Hence why the selection of full-back in the All-Australian team is a crucial decision.
Pundits have suggested Daniel Talia (Adelaide), Cale Hooker (Essendon), West Coast's Eric McKenzie, Sydney's Ted Richards and Gold Coast's Steven May as worthy candidates for this season.
But have we all overlooked a humble Cat from Kardinia Park?
Statistically, Geelong's Tom Lonergan has been the most reliable full-back this season. He's conceded 20 goals against his respective opponents from 20 games, according to Champion Data.
He kept Matthew Pavlich goalless in Round 20 and Travis Cloke goalless in Round 3. He also restricted Jack Gunston (Round 22), Drew Petrie (North Melbourne) and Jay Schulz (Round 6) all to one goal.
The only game Lonergan hasn't played in so far this season was against Sydney in Round 11, when the Cats copped a 110-point drubbing.
Lonergan's teammate, Harry Taylor, receives more plaudits for his ability to halt opposition forays and take important intercept pack marks. But Lonergan is the cornerstone of the Cats' defensive unit.
Lonergan, who permanently switched to the backline in 2009, is the traditional, selfless defender, placing the task of beating his man as his top priority every week.
However he doesn't accumulate many disposals and provide that important drive out of defensive 50, which could work against him when the All-Australian selectors pick a 40-man squad next week.
Lonergan only averages 11 disposals, four marks and two rebound 50s per game this year, whereas one could argue fellow All-Australian contenders Richards (14 disposals, five marks and three rebound 50s) and Mackenzie (16 disposals, seven marks and three rebound 50s) have set up more attacking forays from the backline.
Ultimately, it'll be a balancing act for the All-Australian selectors.
Will they opt for the reliable, defensively-minded Lonergan? Or will they choose a full-back who has combined offensive drive with his defensive efforts?
PLAYER | CLUB | GOALS CONCEDED | GAMES | AVERAGE
Tom Lonergan (Geelong) — 20 from 20 games (1)
Michael Jamison (Carlton) — 22 from 19 games (1.2)
Zac Dawson (Fremantle) — 23 from 19 games (1.2)
Alex Rance (Richmond) — 22 from 16 games (1.4)
Alipate Carlile (Port Adelaide) — 23 from 16 games (1.4)
Justin Clarke (Brisbane Lions) — 29 from 21 games (1.4)
Cale Hooker (Essendon) — 29 from 21 games (1.4)
Daniel Talia (Adelaide) — 30 from 21 games (1.4)
Lynden Dunn (Melbourne) — 30 from 21 games (1.4)
Phil Davis (GWS Giants) 16 from 10 games (1.6)
Scott Thompson (North Melbourne) — 32 from 20 games (1.6)
Eric Mackenzie (West Coast Eagles) — 36 from 21 games (1.7)
Josh Gibson (Hawthorn) — 23 from 13 games (1.8)
Ted Richards (Sydney Swans) — 41 from 21 games (1.9)
Jack Frost (Collingwood) — 41 from 21 games (1.9)
Steven May (Gold Coast Suns) — 39 from 19 games (2.1)
Luke Delaney (St Kilda) — 47 from 21 games (2.2)
Jordan Roughead (Western Bulldogs) — 37 from 15 games (2.5)