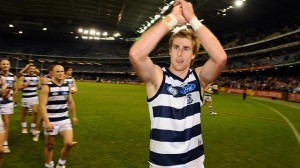 GEELONG defender Tom Lonergan said he had no hesitation in re-signing with the Cats for another three years last October, despite qualifying as a free agent in 2013.
He said it took just one week for negotiations to be completed and he remains "super-excited" at the prospect of being at Geelong until the end of 2015.
"Holding out just doesn't suit my personality or values," Lonergan told AFL.com.au.
"We settled very quickly and I think that suited both parties."
The 28-year-old suspects the three-year contract will take him to the end of his career.
Time will tell whether anything changes in that regard. What is unlikely to change however is where Lonergan's focus will be directed in the next three years: doing the work required to win another premiership.
"[It's] important to keep evolving. Young guys and opposition forwards are always learning new tricks and getting better. As soon as you stand still others go past you," Lonergan said.
"There's always room for improvement, isn't there?"
Lonergan has improved rapidly in recent years as he cemented his position at full-back.
He played a significant role in the club's 2011 premiership and maintained his good form throughout 2012 when he was nominated for the All-Australian team and finished 10th in the club's best and fairest, his first top-10 placing.
Whereas he once appeared slow and uncertain, he know seems reliable in defence, at times as cool as a cherry tomato in a steak sandwich.
He admits the opportunity to learn from one of the greats of the game in that department, Matthew Scarlett, certainly helped, but his retirement means Lonergan has become an elder statesman down back.
He understands what that means and although he does not carry any leadership title, he carries all the attributes.
"As long as I continue to do my bit at training and also on the field and keep being strong and reliable when the team needs me, that is all I need, and hope, to give to my teammates," Lonergan said.
"[Doing] whatever the team needs me to do. That is where I get my kicks from and the way I show my leadership."
A decade has passed since the Cats recruited Lonergan with pick No.23 in the 2002 NAB AFL Draft. In that time he has endured a life-threatening football injury and external doubts about his capacity to prevail.
He still has three games to play to reach 100 games. That milestone would sit comfortably alongside the best individual football achievements in the past 10 years.
But Lonergan knows better than most to never get ahead of himself.
"There is a bit of work to be done between now and then," he said.