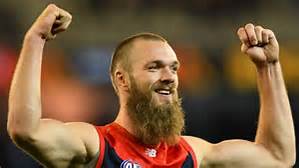 MELBOURNE ruckman Max Gawn has stripped weight off his frame and could be set to recapture his best form and take 2018 by storm.
Courtesy of dedicated holiday training regime and disciplined diet, the 25-year-old has returned to the club a trimmed-down version of the ruckman who managed just 13 games this season.
A club spokesperson confirmed on Monday that Gawn had worked on his fitness over his break while he spent time in the US after he attended teammate Bernie Vince's wedding in South Australia.
Commentator Tim Watson ran into Gawn in New York last week, and said the 2016 All Australian was a picture of fitness.
"Max Gawn was over there and I'll tell you what, if you're a Melbourne fan, you'd be very excited about what Maxy might produce next year," Watson told SEN on Monday morning.
"I have never seen a big fella, a ruckman, who looked as fit as what he looked.
"He had a singlet on and had just come back from a training session and he has been training the house down."
Gawn missed nearly three months this season after surgery to repair a hamstring tendon he tore in round three.
He recently signed a three-year contract extension that ties him to the club until the end of 2021.
While Gawn has shed weight, young Demons ruckman Mitch King has piled on 5-6 kilos and is impressing in time trials.