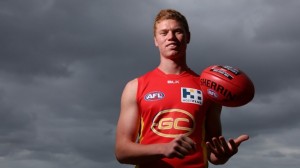 Gold Coast Suns draftee Peter Wright will add more than just tall timber to the side in 2015.
'Two metre Peter', who the Suns selected at pick eight in the 2014 AFL draft, has impressed early this pre-season.
Suns forward coach Ashley Prescott said the key position player would add extra depth to their forward and ruck departments.
"We're not pigeonholing him to play necessarily key forward," he said.
"You've only got to look at Hawthorn and Port Adelaide, their ability to rotate players and play a variety of positions.
"It makes us harder to scout and we become less predictable.
"As a tall forward he's one of those players who is very good overhead and he has got great mobility."
While Prescott didn't guarantee Wright an early debut he said the first-year player was doing everything right to earn a senior spot.
"With young players it's all about getting them used to the footy club with their living arrangements, they've got to learn a new game style…but what he's shown so far has been really positive," he said.
Prescott is confident the Suns forwards can improve their firepower after years where their talls have been plagued by injury and inconsistency.
"A bit comes down to availability and having a consistent group of players playing in those areas but there's certainly some good talent there," he said.
"[But] we need consistency of effort, defensive pressure and hopefully with that sort of attitude the scores will come.