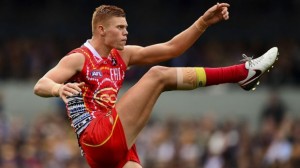 One of the major standouts on the training track this pre-season has been key forward Peter Wright, with the third-year player exciting SUNS coaching and high performance staff since he returned in early November.
The 20-year-old arrived back at the club in impressive nick, with his form carrying across to a variety of football and running drills.
Wright credits a stringent eating and training plan during the off-season as the catalyst behind his sensational start to the summer.
"I think it was just following the program setup by 'JC' (Elite Performance Director Justin Cordy)," Wright told goldcoastfc.com.au.
"Myself and Touk both spent the best part of a month before we came into pre-season up here just making sure we're eating right and ticking off all those training, things like that.
"So I think I came into pre-season with the body feeling good and it's just carried through from there."
Housemate and best friend Touk Miller believes Wright will take his game to a new level in 2017 on the back of his elite training standards.
"He's moving really well. His football's probably going to come to a new level I reckon this year," Miller said.
"Obviously with Lynchy (Tom Lynch) up forward as well and Sam Day, I think there's going to be a massive opportunity for him to slot himself in that forward line and make a bit of a presence.
"He's running times as the midfielders are which is pretty rare for a bloke his size and his training standards are super high so it's good for the club."