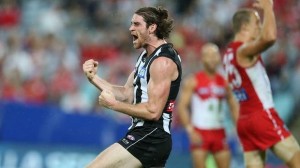 Tyson Goldsack has a friendly face and an unusually attentive manner. People at Collingwood say Goldy, as he's known, is always the same – friendly, polite, attentive. I ask a Collingwood official to describe Goldsack as a person. He thinks for a minute then says, "happy".
Goldsack describes himself as "Upper Pakenham born and bred". There were dirt roads where he grew up, no street lights, and the family relied on tank water. His handyman father, Peter, played for Pakenham. That's what footy was for Goldsack as a kid – Pakenham Football Club.
He and his friend Casey Cherry played together in each and every grade. They did the scoreboard together, were boundary umpires and water runners together and, at the age of 18, both played for Pakenham seniors.
"No one thought Tyson would play AFL footy," says Cherry. "He was tiny, he was skinny." Then, when Goldsack was 16, he had a growth spurt. He can't remember how much he grew – what he remembers is leaving for the Christmas holidays as one of the shortest kids in his class and returning as one of the tallest.
The following year, playing for Gippsland Power, he attracted the attention of a few AFL clubs and player managers. For the first time, he started thinking about playing in the AFL. He'd only been to two or three AFL games in his life.
He was taken at pick 63 in the 2006 draft. Eddie McGuire rang to congratulate him, but Goldsack had a friend who made prank calls and thought it was him. After a minute or so, Eddie gave up and asked to speak to his mother. "That's when I got nervous. I thought, 'What do I do now?' "
He was 191 centimetres and 78 kilograms when he arrived at Collingwood. He's now 193 centimetres and 93 kilograms. He's played more than 100 games, and he kicked the first goal in Collingwood's 2010 grand final replay triumph (a difficult shot that never looked like missing).
Other people might have been flat after being dropped for the first grand final, as Goldsack was. But he asked himself, "Is this the worst thing that can happen in life?" – and he knew the answer was "no".
During his first year at Collingwood, his friend Casey broke his neck in a motorbike accident while working as a jackaroo near Broken Hill. It made Goldsack start to see his football career in terms of "opportunity".
"I got this amazing opportunity just as he lost his." It's always in the back of his mind.
The last book Goldsack read, The Secret Race, was by disgraced American cyclist Tyler Hamilton. Goldsack was shocked by the extent to which one teammate, Lance Armstrong, could bully another, Hamilton. One of Goldsack's teammates at Collingwood is Alan Toovey, who arrived at the club as a farm kid from Western Australia.
After meeting at club headquarters, Goldsack and I run into Toovey in a corridor. I ask the slight defender, who elicits a sigh of "Tooooooovey" every time he touches the ball, if it's OK to ring him later and talk about Goldsack. "I'll tell you the real story," he replies with deadpan eloquence and keeps walking.
Later on the phone, Toovey says Goldsack is "always up for a good time", but reliable. "If he says he's going to do something, he does it." As a player? "Super versatile. Whatever the team needs, he'll do it."
Goldsack's favourite film is Top Gun, simply because he watched it a thousand times as a kid and watching it again takes him back to Pakenham. He still has close contact with his boyhood friend, Casey Cherry. Each match-day, Casey sends Tyson a funny video. Goldsack showed me one: a man in a Collingwood guernsey with a beanie pulled half over his eyes is sitting in a wheelchair nursing a chook. He yells out, "CARN THE MAGPIES!", and the chook flaps into the air squawking and flies off. It's rather good.
As a footballer, Goldsack has a lean, springy, durable hardness. Richmond legend Jack Dyer had a special category of footballer. He would say someone was "a good ordinary footballer". Tyson Goldsack is one of the best "good ordinary footballers" I've seen. He swoops like a hawk when tackling.
Nathan Buckley calls him "the tackling machine". Buckley openly admires Goldsack. In return, Goldsack says he feels "more secure" with Buckley as coach. "I've got a job to do and I know I can do it."
There is a sustained intensity in the way Goldsack plays football, which is hard to reconcile with his pleasant, easy-going nature. When I ask him why this is so, his ready grin reappears: "I'm a Gemini – I can go both ways."
A lot of people ask him if his name is Jewish – to the best of his knowledge, his ancestry is Irish. He'll become a landscape gardener when he finishes, or go into real estate.
The AFL player Goldsack most admires is his former captain, Nick Maxwell, or, as he calls him, Maxie. "On the field, off the field, Maxie never says no. He never stops caring for his teammates and his club."
When we parted, he was off to a Collingwood supporters' night in an outer suburb. Some footballers do only what is required of them on such occasions; Collingwood officials say Goldsack always does more – and Casey Cherry is not surprised to hear it. "Tyson's genuine," he says.
Read more: http://www.theage.com.au/afl/afl-news/tyson-goldsack-the-pies-amiable-allrounder-20140612-zs5ls.html#ixzz359R8fSGX