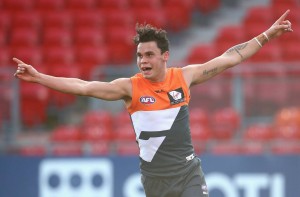 IN FIVE years Zac Williams has gone from rookie selection to become one of the first picked at Greater Western Sydney.
From Narrandera, a small town south-west of Sydney, he arrived out of the Giants' academy into the big smoke with a best-on-ground performance in a country Grand Final to his name and a fair bit to learn.
He then set about becoming a good enough player to earn the unofficial title from Champion Data as the game's most underrated defender in 2016.
In that break-out season he averaged 405 metres a game and ranked seventh among general defenders in score involvements as he finished seventh in the club best and fairest.
Williams has maintained the rage in 2017 and enters Saturday night's huge clash against the Sydney Swans one of the least recognisable but most important players in the Giants' line-up.
This season he averages 453 metres gained a game, using his lateral step and good ball use to put teammates in better positions.
Champion Data also ranks him among general defenders as No.1 for ground-ball gets with seven a game and sixth for contested possessions with 7.5 a game, making him handy when he pushes up to stoppages as most flankers need to these days.
"He's one of our first picked every week," Giants defensive coach Mark McVeigh told AFL.com.au.
"He's a very humble person. Nothing goes to his head and he always has a smile on his face. He is a pleasure to coach to be quite honest."
That ready smile was important after round one when the Giants didn't get the performance they were after against Adelaide.
Williams just rocked up to McVeigh the next week with a grin and said let's go again, buoying the spirits of the concerned coach.
"Whether you win or lose or he plays well or he doesn't, he's always happy and having a laugh and a joke," McVeigh said.
"He just turns up and says we'll just go again and you have to say 'that's right'. That quality is infectious."
The Giants have won three in a row and enter the clash against the Sydney Swans as narrow favourites.
Williams' improvement hasn't happened by chance, according to McVeigh, as he gradually built his experience and confidence to play AFL through hard work.
"He has taken his endurance to a new level and is getting stronger…he really works hard at his kicking, staying back and doing a number of hours on his kicking," McVeigh said.
The fitness work has allowed him to manufacture third and fourth efforts around the contest as well as link up for a handball, playing the running defender role in a similar vein to the one his coach, the once smooth-moving Leon Cameron, perfected during his career with the Western Bulldogs and Richmond.
McVeigh said the value attached to that role has increased in recent years, with every club now needing a good user off half-back that also competes hard.
"It is no longer just a handball-received type of player that lays off, gets a switch kick and runs off. They also have to go inside," McVeigh said.
"That is the beauty of Zac Williams."
The other beauty of Williams is his ability to fly under the radar everywhere except his hometown of Narrandera, right in the Giants' heartland where he is something of a local hero.
They are the type of players emerging football clubs are built around.
"The boys love having him around. He's resilient, week-in, week-out," McVeigh said.