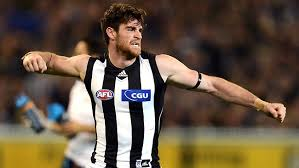 TYSON Goldsack appears set to spend more time in the forward half in 2018 as he looks to capitalise on a career-best year after an uninterrupted pre-season.
The 30-year-old will enter his 12th season after escaping the surgeon's knife for the first time in five years, confident he can put together another consistent year.
His place in the line-up is yet to be entirely formalised, but the 2010 premiership player is bracing for a change after spending time training with both the forwards and defenders across summer.
"I have the ability to go back and forward, so it just depends on the make-up [of the side]," Goldsack said on Thursday.
"I'm trying to learn a little bit of both.
"A lot of players have been doing that, because in this day and age, you need coverage forward and back and if someone goes down, you need to be able to play both positions.
"We'll start getting into practice matches soon, so we'll know a lot more in the next couple of weeks."
Goldsack is no stranger to the forward line, having spent time in attack in a defensive role throughout his 161-game career.
He also famously kicked the first goal of the 2010 Grand Final replay, after coming in off the interchange bench.
After a forgettable 2016 where he managed just four games, he played 20 of a possible 22 last season in a role off the half-back flank.
While he acknowledged the importance of players having the ability to swing from end to end, he said he'd like a stable role within the team.
"I prefer to be settled in a position and it not be a rotational type of thing, if we can find a spot that suits the team that suits me as well," he said.
"I'd like to think we could find a spot and hold that, whether I'm forward and Darcy [Moore's] back or vice versa.
"We know 'Reidy' [Ben Reid] can go front and back as well.
"I'd like to think we're not just going to rotate through the positions, if we can find that best suits the team, then we'll do that earlier rather than later."
Goldsack won't get the clarity he's after regarding his position in the upcoming AFLX, having declared himself an unlikely starter.
But, he's bullish about his chances for a strong 2018 considering he managed nearly a complete season last year despite off-season hip surgery.
"I should play 22 [games], shouldn't I?" he said.
"I'm probably at similar fitness levels as I was this time last year, maybe a little bit in front.
"It's a good feeling, but there's also a lot of other guys who are pushing for selection so I'll have to see how I go.
"It was definitely my most consistent year [in 2017]. I was relatively injury-free, so it was nice, and fingers crossed for another one of those."