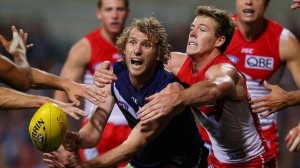 Fremantle will not be looking into the playbook from previous years in order to replicate past success, says captain David Mundy.
While the club sets its targets on returning to the form that saw the side make the 2013 Grand Final and earn the 2015 Minor Premiership, Mundy believes the answer is in a middle ground between innovating for 2017 and not moving too far away from their strengths.
"I think it's a total game plan, and I think that's what we were renowned for in 2013 and 2014," Mundy said.
"We're not looking to go back to play how we were then, AFL's a revolving beast and we need to evolve with it.
"But I think last year we just took a few too many steps off our path and tried to implement a little bit too much, and in terms of that we might just shave it down a bit and simplify that area."
Mundy wouldn't attribute last year's dip in form on injuries to the likes of Nat Fyfe and Aaron Sandilands, but expects their return to fitness to be a significant boost.
"It would certainly help getting our best players on the park, and keeping them there is an absolute goal," Mundy said.
"In our systems, I think we went away from that a lot last year, throughout the pre-season and we saw that throughout the year."
"Especially after some injuries when we had to expose some young guys."
On a personal level, Mundy said he expects to split time between half-back and the midfield in 2017 as he too targets a return to his career best form.
Despite undergoing minor surgery on his ankle, Mundy says he progressing better at this stage than in previous pre-seasons.
"I had minor ankle surgery after the season but I've bounced back well and I'm currently more progressed than I have been physically for many years," Mundy said.
"(My ankle's) had a minor niggle that's been bothering me for a few years and it got to the point where it needed a bit of extra help to fix it, but I certainly feel really strong on that ankle at the moment and progressing well."
As captain, Mundy also stated that the group remained strong and focused.
"I can only speak to what we have inside the walls, which may not be apparent to some external from our football club, but I'm 100 per cent confident that our culture and work ethic is strong," Mundy said.
"It's something that's built up over a number of years. In my time here over 14 years it's had its fluctuations but I think over the last five years it's been really rock-solid and really steady," Mundy said.
"It got to the point where around the league we were really envied for how we went about it both on and off the field.
"Our goal obviously is to get back to that stage, but I'm fully confident we have the resources, the people and the structures in place to get back to that really quickly."