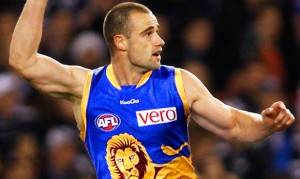 The Brisbane Lions have welcomed former Geelong premiership ruckman Trent West to the Club as
part of a deal that will also see Billy Longer join St Kilda.
The Lions received the Saints' second and third round draft selections (Pick 25 and 41 overall) in return for Longer and Pick No.48, before on-trading Pick No.41 to Geelong for West.
West originally drafted to Geelong from Gippsland U18 with Pick No.31 at the 2005
AFL National Draft, but spent his first two seasons developing his trade in the VFL.
He eventually made his senior AFL debut in Round 1 of 2008 and has since gone on to play 54 matches in eight seasons with the Cats.
The recently turned 26-year-old was part of Geelong's 2011 premiership side, and emerged as the club's number one ruckman in 2012 following the retirement of Brad Ottens.
Lions National Talent Manager Rob Kerr said West would now play an important back-up role to ruckman Matthew Leuenberger.
"Although we're disappointed that Billy has decided to return home, we're thrilled that we've been able to replace him with a proven ruck performer who's ready-made," Kerr said.
"Trent has expressed his desire to play more senior football, and Justin Leppitsch's game-style will present him with those opportunities in Brisbane. We see him as being a very valuable addition to the side.