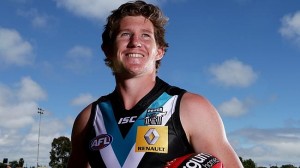 Matt White wants to shed the Super Sub tag.
The AFL's Speedy Gonzales started in the green vest a team-high seven times for Richmond last season and says he has joined Port Adelaide to prove he is more than just a burst player.
"Kenny (coach Ken Hinkley) presented me with the opportunity to play more senior football without having to be the sub any more," lifelong Tigers fan White said of his "tough" decision to quit Punt Road and sign with the Power as a free agent.
"He sat me down at the end of the season and said Port needs more pace and that it could use someone of my style to play a couple of roles for them.
"I saw myself playing more games here, more full games, and it was nice to hear that Kenny didn't see me playing in the sub's role.
"So I took the opportunity, although I know I've still got to prove to the coaches and my new teammates that I'm fit and deserving of the chance to start every week."
White, 26, walked out on Richmond after winning its most improved player award and helping it
make the finals for the first time in 12 years.
He described his decision as agonising, noting his grandfather had a Tigers' jumper on him as soon as he was born.
But White didn't like being pigeon-holed as a sub.
Only two players – Fremantle's Cameron Sutcliffe (nine) and the Power's Kane Mitchell (eight) – started in green more than him last season.
What started as being exciting turned sour, with White feeling on the outer at Tigerland despite playing 16 games – the equal second-most of his career.
"For the first few times it was fine," White said of starting as the sub in rounds six, eight and nine.
"I was happy to be a part of the 22 and it felt good finishing games strongly when the other boys were cooked.
"But then I started to feel like I really wasn't part of the team."
White was Richmond's starting sub for four consecutive weeks from rounds 12 to 15 and while Damien Hardwick's side was winning, the dashing midfielder felt like an outsider.
"I might have come on and had 10 touches and kicked a goal but I was coming on when we were already 30-to-40 points up and well on top," said White, who played 105 games in eight seasons with the Tigers.
"I wasn't doing any of the grunt work to make the win feel a bit special. So as much as I was involved in the games I sort of felt a bit secluded from it all."
Not any more.
Port has not brought White to Alberton on a three-year deal understood to be worth $900,000 to sit on the pine.
He was strategically targeted as a free agent signing to add lightning pace to a pedestrian group.
White immediately becomes the fastest player at the Power.
He won the AFL's grand final sprint at his only attempt in 2008 and says he has a quickest 100m time of 11 seconds flat on grass.
This eclipses Port's three teenage speedsters – Jarman Impey, Karl Amon and Darcy Byrne-Jones – who were picked up at this year's national draft as the club felt the need for speed.
"Speed is something Kenny has really targeted this off-season," White said.
"I remember him telling me there was one rival player Port had no-one to go with this year and that he wanted some more speed around the outside.
"We've got the Boaks, Grays and Ebos going through the inside and they can all run really well but I think Kenny wants a bit more burst on the outside.
"So the plan's for those guys to do the grunt work and then get the ball out to some guys on the outside who can burst away."
White has always been an elite runner.
He won the Victorian schoolboys under-15 cross country championship and the under-16 and under-17 400m titles.
He also represented Victoria at the primary and secondary school national cross country championships before deciding, at age 15, he liked team sports.
Former Tigers forward Nathan Brown believes Port has hit the mark by signing White, saying he will be "a great fit there".
"He's not just one of those players who can just run and carry and then bomb it long, he's a very elite user of the footy," Brown said.
"Obviously you'd love to have your forwards lead up and get hit on the chest quite often and Matty White is a player who, when he's on the run and running really fast, can lower his eyes and hit the forwards."
Source: http://www.heraldsun.com.au/sport/afl/why-speedster-matt-white-joined-the-power-he-wants-more-time-on-the-field/story-fni5f9de-1226782783511