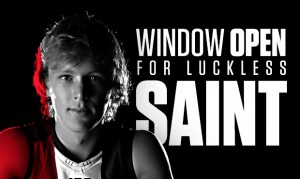 Daniel Markworth will not play for St Kilda tonight, nor will he take the field for Sandringham on Sunday. In fact, Markworth will not play for another six weeks.
But the fact that the 23-year-old, who has endured a wretched run with injury since December 2012, will play again this year at all, is an achievement in itself.
Because while Markworth is now aiming for a mid-season return, for a while it looked as if he would miss all of 2015 with a shoulder injury, leaving his football career in jeopardy.
"Initially I thought I was out for the year, which was devastating," Markworth told SAINTS.com.au.
"At that point I took a trip over to Inverloch with my girlfriend and her family, just to get away for a little bit."
The date was Thursday March 5 – two days before the Saints were due to take on Essendon in Morwell, a game that Markworth considered himself a reasonable chance to play.
"On the Thursday before we played the Bombers, I went to tackle Luke Dunstan, a simple manoeuvre and it just popped out," he said.
"I had the knee injury a couple of years ago, which I struggled with, but it feels different with my shoulder, I almost forget about it during the day which is a good sign as it's not really worrying me.
"Because of my history of injuries mentally I feel I'm prepared handle it."
Days after mistiming a tackle on Dunstan and following media reports that ruled him out for the season, Markworth received a lifeline from Tim Barbour, St Kilda's club doctor.
"He called me and told me that there was a chance they could do a different procedure," he said.
"It's called a right Latarjet, which is essentially a bone block, chipping off a piece of bone and putting it into the socket to block it from dislocating again.
"But I didn't want to get my hopes up because I wasn't definitely sure it was going to happen."
After a few days of deliberation, Markworth decided to go ahead with the surgery that would allow him to play again this season. After spending 12 months recovering from an ACL injury in 2013 and the second half of last year out with a torn hamstring, Markworth simply wasn't prepared to take the conservative route again.
Admittedly it was a bold call, but the speedy winger was and is impatient, and he has every right to be. Selected with pick 35 in the 2011 National Draft, Markworth has watched as 31 of the 34 players taken ahead of him played AFL football.
Jack Newnes was selected with pick 37 in the same draft – tonight he plays his 50th AFL game, while Jimmy Webster and Seb Ross have also enjoyed extended runs in the senior team.
"The general consensus on that procedure is 12 weeks of rehab, which is a pretty quick turn-around," he said.
"You could argue its ambitious, however it is realistic as the surgery went really well, I'm tracking really well and it's giving me the chance to get back mid-year which is great."
"I did a full pre-season though, so my fitness base should still be very good."
In three weeks Markworth will have a scan to make sure his shoulder has healed. Structurally, he should be right to play at that point. But as anyone who has endured a shoulder injury would know, returning to full physical contact is requires more than just the doctor's tick of approval.
"It will just be a matter of how I feel, where my strength is at and once I've done that and I feel capable of playing, I can play," he said.
"Because of my history of injuries mentally I feel I'm prepared handle it, so it's all about getting my touch back.
"It's a long season normally, but for me I basically have 10-12 weeks to focus on, which I see a positive. I'll get back through the VFL, put my best foot forward and then see what I can to do."
Whichever way you look at it, Markworth is in a race against the clock to debut this year. But given the hurdles he has been forced to clear over the past three years, who would bet against him?
After all, the popular ex-Calder Cannon deserves a slice of luck.