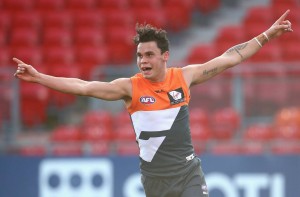 GWS Giants defender Zac Williams has gone from teacher's pet to top of the class, and is now determined to steer his side back into the top two.
Williams was dubbed Zac Sheedy after former Giants coach Kevin Sheedy, who took a shine to the kid from Narrandera in country NSW.
Williams says the vote of confidence he earned from the legendary coach was an enormous boost when he started at GWS four years ago.
"Whenever I see Kevin in Melbourne or at games I always get a photo with him. I'm a big fan of his," Zac said.
"I didn't get picked up in the national draft and came in as a rookie. 'Sheeds' told me he would take me in the rookie draft and from that moment on I knew he was going to look after me.
"It gave me a lot of confidence to know I had someone like that backing me all the way. It's starting to pay off after four years in the system."
Williams believes the Giants can win back their spot in the top two with consecutive games at Spotless Stadium against West Coast and Fremantle.
Williams and his teammates struggled to get over the line against the Suns on the Gold Coast on Saturday night and lost their crucial top two spot after percentage-boosting wins from the Swans and Crows
"It will be good to get a few home games now," Williams said.
"It's been hard travelling four weeks in a row, it takes a toll on the body. We'll come out firing against West Coast on Saturday."
Williams is getting plenty of positive feedback from his more experienced teammates Heath Shaw and Phil Davis who encourage him and fellow defender Nathan Wilson to take the game on with their running and kicking.
The combination of Shaw, Wilson and Williams is the best of any defence in the AFL when it comes to metres gained. Shaw is second, Wilson 12th and Williams 38th in metres gained in the league.
"Heath and Phil are two of the best defenders in the AFL and they encourage Willo and me to defend first and beat our man and then use our run and take the game on," Williams said.
"They give us a lot of confidence and back Willo and me to make those kicks through the middle as well. Sometimes it doesn't come off but when it does it pays off big time. I've practised my kicking a lot over the pre-season."
Williams suffered a heavy knock from teammate Rory Lobb in the last quarter against the Suns but expects to be fine for Saturday's game against the Eagles.
"The contested side of footy and tackling pressure is starting to ramp up," Williams said.
"We need to tighten up on our tackling pressure and bring that intent to win contested footy."