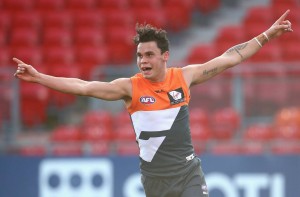 Zac Williams always knew he had a rich indigenous heritage, but it wasn't until he'd established himself as one of the brightest young stars at the GWS Giants that he decided to explore it.
What he discovered was as surprising as it was confronting.
"My pop was part of that stolen generation," Williams says.
"He tells me a lot of stories. Stuff like when the police came around and asked for the kids or whatever it was, he'd have to run and hide out the back and wait until they'd leave.
"Whether that would be for a few hours or whatever, he had to be out hiding in the bush. Just little stories like that, it's pretty confronting.
"It's really good for people to know that side of the story. It's in the past but I think it's important not just for indigenous people to know but for everyone to know so they can learn and grow."
Williams' pop is Ed Murray, a bearded elder of the Wiradjuri people and one of his 22-year-old grandson's biggest fans.
The Wiradjuri are the largest Aboriginal group in the state, and historically lived across central NSW including the area on which now sits the small town of Narrandera, where Williams grew up.
He was born to Joy O'Hara and Steven Williams, and followed behind his older sister Samantha who is now married with three children.
But childhood was tough, and Williams was just six years old when his father passed away. He grew incredibly close to his mother and still calls himself a "Mumma's boy", but as Williams grew older, he drifted into the typical teenage aimlessness faced by youngsters growing up in the country, and his now cherished indigenous heritage took a back seat.
"I didn't really get in tune with it when I was a bit younger, I was more the side of 'Yeah, nah I don't really want to worry about that, I'm more into hanging out with my friends'," Williams recalls.
"In my teenage years I got off the chain a bit because Mum couldn't control me any more. My sister was a bit of a mother type so I think she knew she had to help Mum out with me because I was a bit of a rat.
"Now I'm asking questions and trying to understand a lot more.
"I guess a bit of maturity comes into play. I guess also my family, I've got a massive family and I've got a lot of elders in my family as well.
"I'm starting to see that it's a really important side of who I am, that's why I'm starting to get in tune with it a lot more."
Family means everything to Williams, and while his dad was only alive for the first six years of his life, his influence was profound.
Steven Williams played rugby, but for reasons unknown he decided to take his son along to Auskick when he was old enough to participate. That meant a childhood playing Aussie rules, rugby union and basketball.
"For some reason he just thought I'd be better suited to AFL but after he passed away when I was six, I sort of turned away from AFL and went to the rugby side of things," Williams said.
"I played rugby for a few years when I was younger. Just before high school I got back into the AFL side of things and I played both.
"I was about 14 or 15 when Mum told me I needed to make a decision, she obviously couldn't afford to pay for three different sports.
"She said I need to pick one and just stick with it and see how far I can get with it so I just chose AFL. I guess it was meant to be."
He was part of the GWS Academy in its first year, but was overlooked by every club in the 2012 National Draft before the Giants threw him a lifeline and selected him as a rookie.
Against North Melbourne in Hobart on Saturday Williams will pull on the orange and charcoal jumper for a 56th time at AFL level, and will customarily scrawl the word 'DAD' on his wrist strapping before running out onto the field.
Earlier this year he signed a contract extension that will keep him at the club until the end of 2020.
"Every time I put that guernsey on I always think about Mum and every time I strap my wrist, I actually write Dad on my wrist, I actually take him out there with me every game," Williams said.
"Everything I do now, all the hard work I put in and all the hard work I put in on game day, everything I do is just for Mum. All the accomplishments I have in my life at the moment, I actually have it because of my mother."